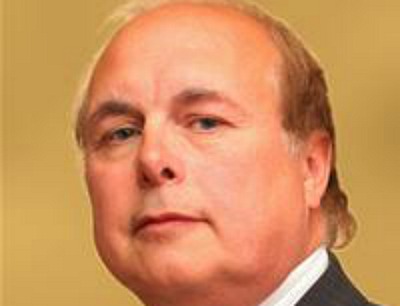 Nantwich Town councillor David Marren has been expelled by his party for comments he made about lack of action over travellers on Barony Park.
Cllr Marren, who also represents Shavington on Cheshire East Council, made the comments in May after the latest unauthorised encampment on the park.
He criticised then Cheshire East and Conservative Leader Cllr Rachel Bailey, saying she was responsible for lack of action.
He was initially suspended by Crewe and Nantwich Conservative Association.
But in a statement late last night he revealed he has now been expelled.
Cllr Marren said: "Boris Johnson said today 'I will continue to speak as directly as I can because that is what I think the British public want to hear'.
"Well Boris is out of touch with the Crewe and Nantwich Conservative Association if he thinks they want plain speaking!
"I have tonight been expelled from the Conservative Party for supposedly criticising "Conservative held Cheshire East Council" and Cllr Bailey, whilst she was Leader.
"In the Wednesday 1st May 2019 edition of the Nantwich Chronicle, issued the day before polling day I was quoted and paraphrased giving negative comment towards Conservative held Cheshire East Council and the Conservative Group Leader. The offending extract was
'This is a Cheshire East Owned Facility and the Town Council have repeatedly called upon Cheshire East to protect it. They haven't and won't because the leader of Cheshire East doesn't regard it as a priority'
"Apparently to behave in this manner and give these quotes, or to put myself in a position to be quoted as such, is deeply unacceptable.
"Ordinarily I would have called upon Boris to support me as he is clearly a "plain speaker" who has been critical of his leader I think, or perhaps Phillip Hammond who muted an intent to bring down the next Conservative Government should a no-deal Brexit be pursued, or perhaps Antoinette Sandbach who voted with Labour today against the Government….., but I didn't.
"My values and principles remain unchanged since I was first elected to Nantwich Town Council and Cheshire East Council in 2011.
"My expulsion for the two sentences uttered above in my view do the Conservative party a disservice, in that by bullying and making an example of me the Association wield power over colleague councillors and elicit compliance and silence, both of which I believe the electorate despise because it subordinates their interests.
"It is my firm belief that voters want plain speaking politicians, councillors who are essentially truthful and unafraid of saying sorry when things go wrong and are equally unafraid of putting residents before party.
"Unfortunately what the Crewe and Nantwich Conservative Association seem to want is the opposite, Party first irrespective of residents views, a preference for Councillors to see no evil, nor speak of any they've seen, nor hear about any told to them whilst the Conservatives are in charge, but they don't mind now.
"I am not one of those "wise" monkeys and will never be bullied to be one.
"I stood in May as a local conservative.
"I remain a local conservative Councillor for Nantwich Town Council and Cheshire East Council, but one that will definitely put residents first and always has, irrespective of party or political leaning."
Donald Potter, Chairman Crewe & Nantwich Conservative Association, said: "Neither the Association nor the Conservative Party will comment until such time as Cllr Marren has had the appropriate opportunity to consider and/or instigate an Appeal Process and that should he
choose to pursue this route, that such an Appeal Process has been duly considered/concluded."