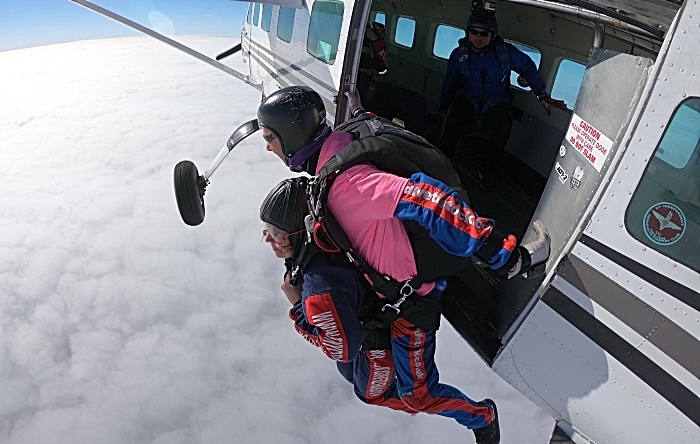 A Wistaston resident and a work colleague completed their first-ever tandem skydives to raise money for St Luke's (Cheshire) Hospice, writes Jonathan White.
Sarah Iggo, an inclusive learning advisor at Cheshire College – South & West (Crewe Campus) and work colleague Chris Baggs, from Trentham, took part in the charity skydive at Tilstock Airfield, near Whitchurch.
They made the jump in memory of work colleague Kevin Taylor, from Nantwich, who passed away to cancer at Christmas last year.
Their skydive has raised more than £2,000.
Kevin worked at the college as a funding and data facilitator, underwent a prolonged period of treatment including drug trials, so others may benefit in the future.
He was cared for by St Luke's Hospice in his final weeks of life.
Sarah and Chris received a safety briefing from their tandem instructors, put on a jump suit to go over their clothes, a pair of goggles, some headwear and a harness.
They had a 20 minute flight to 10,000 feet where they were each attached to their tandem instructor in a dual harness system.
On exiting the plane they experienced 5,000 feet of freefall at over 120mph before the parachute was deployed for the final 5,000 feet.