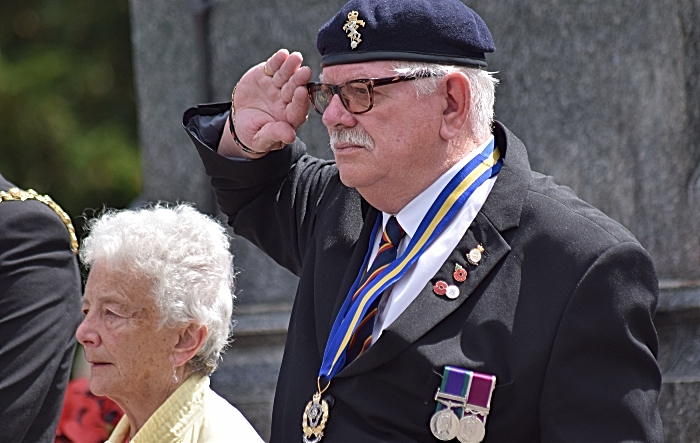 Crewe & Nantwich MP Laura Smith has called for better deals for Armed Forces personnel and their families at the annual Crewe Armed Forces Day yesterday (June 30).
She was among many hundreds who turned out for the annual event to pay tribute to men and women who currently serve or used to serve with any of the forces.
A parade took place from the Clock Tower to the Boer War Memorial in Queens Park, led by The Band & Drums of the Cheshire Constabulary and followed by Dabbers Scooter Club, military veterans, invited guests and cadets.
The service was led by Reverend Ken Sambrook (Padre Crewe Branch Royal British Legion) with a Prayer of Remembrance, the Last Post, a two-minute silence and Reveille.
There were readings by Mayor of Crewe Ben Minshull as well as Ms Smith, hymns and the singing of the National Anthem.
Ms Smith said: "As a country we are rightly proud of our dedicated and highly-skilled servicemen and women, ready at a moment's notice to do whatever is necessary to defend our country.
"Their selfless service and dedication are in evidence across the world – whether in building hospitals to fight the Ebola epidemic, combating poaching in Southern Africa or freeing civilians from the tyranny of ISIS.
"It is only right we give attention to improving the situation for our armed forces.
"Subjecting forces families to the public sector pay cap has meant they have received a real-terms pay cut for seven years running.
"The number of personnel choosing to leave the forces is at historically high levels and pay remains one of the top reasons why personnel decide to leave.
"To make sure our personnel receive a fair pay rise every year the Government should scrap the public sector pay cap that is currently keeping wages down.
Housing is also an issue for our personnel and their families. There have been persistent complaints about housing maintenance in service accommodation.
"The Government should be putting pressure on private companies with existing contracts to deliver properly maintained and promptly repaired homes for service personnel and their families.
"Service children are sometimes not placed in the most appropriate school with siblings or other forces children from the same unit, causing unnecessary distress.
"Local councils should be empowered to ensure a fairer admissions system for every child and develop admissions strategies which can cater more effectively for the specific needs of all service children, recognising the challenges of frequent moves, and the benefits of keeping siblings and other service children together.
"It was an absolute privilege to take part and a very special honour to be asked to read at the Thanksgiving service at Queens Park. It was a beautiful day that did our Service men and women proud."
During the event, there was also a concert by The Band & Drums of the Cheshire Constabulary, a drill parade competition, a craft area, and children's zorbing.
Organisations represented on community stands included The Royal British Legion (Crewe Branch), Cheshire Constabulary, Crewe Sea Cadets, Crewe Army Cadets, 95 (Crewe) Squadron Air Training Corps, Cheshire Fire & Rescue Service, RNLI Lifeboats, The Cat 107.9 FM community radio station, Friends of Queens Park, Everybody Sport & Recreation, Boxing tots, and Crewe Youth Club.
(Pictures by Jonathan White)