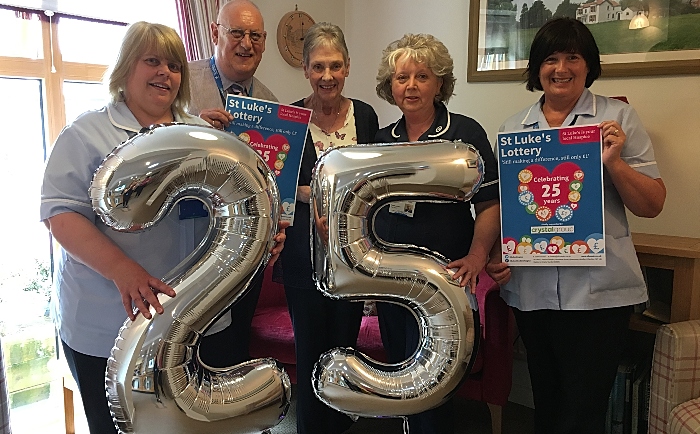 Staff at St Luke's Hospice are celebrating 25 years of its lottery which has helped support patient care across Cheshire.
Since the first draw in July 1994, the lottery has become St Luke's biggest single source of income.
More than 16,000 people currently play it each week.
St Luke's Staff Nurse Di Collins said: "In 1994, St Luke's was one of the first hospices in the UK to launch a weekly lottery and it has gone from strength to strength to become the single biggest source of income for the hospice.
"We are incredibly grateful to our loyal supporters who play it each week, in fact some have been playing since the very first draw.
"After 25 years it still costs just £1 a week to play the lottery, but all of those pounds collectively make a huge difference to our hospice.
"Since 1994 the lottery has raised a staggering £11 million – equivalent of one week of care on our In-Patient Unit every month for the last 25 years!
"Throughout July we will be celebrating the Lottery and thanking our existing players with four weekly bumper jackpot draws of £2019.
"We also hope to encourage others to sign up for just £1 a week. It really is the easiest way to support St Luke's."
The first draw on July 1 1994 was won by Norah Davies of Winsford, who is still playing the lottery today.
She won the jackpot of £1,500.
She said: "I can't believe it has been 25 years.
"I remember we had come back from holiday and my daughter-in-law said do you want the good news or the bad news.
"The bad news was that our car had been stolen while we were away, but it had been found over on Mount Pleasant with a bloke asleep in it, and the good news was that we had to ring a number.
"So I rang it and they told us we'd won the lottery. I'd never won anything in my life before!
"My friends came and we went out for a meal to the railway carriages at the Brighton Belle.
"So we had a meal there and we had a bottle of champagne which none of us liked really! We didn't like it but we drank it anyway! We gave some money to the children as well."
Crystal Legal Services based in Crewe is sponsoring St Luke's 25 year Lottery celebrations throughout July.
CEO Tony Shields said: "We recognise the value in working with a local charity as a means to give something back to the community.
"It becomes a focal point for our colleagues to contribute through gifts of time and money to a really fantastic cause.
"There are members of our staff who have had family members and friends cared for by St Luke's so we understand how committed the staff are and just how superb the care and support is that's provided to Hospice users."
Every penny of profit the lottery raises, currently 70p in every £1, supports local people cared for by St Luke's.
Every Friday there are 39 guaranteed cash winners with a weekly top prize of £1,500 (increased to £2019 for the month of July).
To sign up online visit www.slhospice.co.uk/lottery
For enquiries or to sign up over the phone call 01606 553553 or email [email protected]