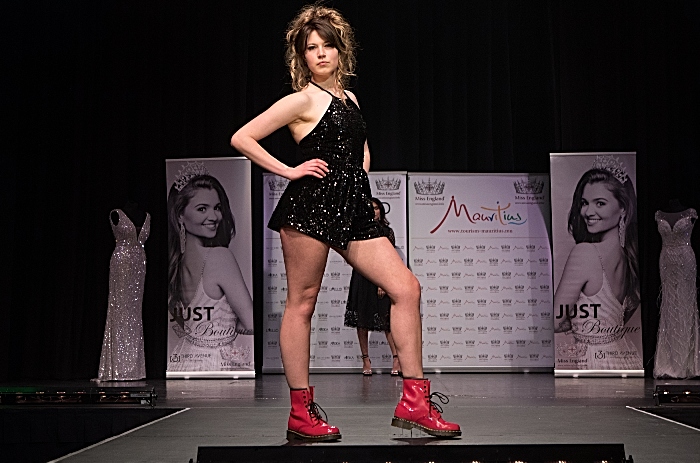 Eleanor Farr admits she's "not your conventional beauty queen".
But this South Cheshire businesswoman is defying the Miss England stereotype – she wears Doc Martens, shuns make-up, and displays her surgery scars with pride!
And what she happily calls her "quirky" approach has impressed the judges who voted her through to the Miss England grand final later this month.
Eleanor, who runs a photography business in nearby Malpas, paraded at the Northern semi-finals by wearing bright red Doc Martens rather than high heels.
She also wowed judges in the many other rounds of the contest, which include the new "bare faced" round in which entrants are encouraged to go without cosmetic surgery or make-up.
We featured Eleanor earlier this year, telling how she had overcome a life-crippling condition which had left on the verge of suicide.
The 24-year-old, formerly of Station View in Nantwich, was diagnosed with an aggressive autoimmune disease aged just 19.
But her fighting spirit won her a place in the Miss England semi-finals in Burnley where she took the show by storm!
Eleanor said: "I got a vote from all the judges for 'judges' favourite' – perhaps helped by the fact that I was the only contestant to wear bright red Doc Martens instead of high heels!
"It was a weird mix of excitement and 'wow this is surreal'
"I'm a little quirky, I'd rather be in wellies than high heels, I never wear makeup and I have surgery scars!
"I'm not a conventional 'beauty queen' so I never expected to get as far as this, but somehow I'm in the Miss England finals!"
She won accolades from judges as top fundraiser in the North, having raised £1,132 for PAPYRUS the suicide-prevention charity through an event organised at De Bees in Winsford and a raffle supported by local businesses.
Now she will face a different tasks for the final.
"Gone are the days where contestants parade around in bikinis," she added.

"They now have an 'optional' bikini round as well as a talent round, a hair video round, a fundraising round, a sports round.
"And a new round to 2019 is the 'bare-faced' round which has received a lot of media attention recently.
"And since I don't really wear make-up, this wasn't a particularly challenging event to go make-up free.
"But this round was introduced after organisers were staggered by how many young contestants were having cosmetic treatments, such as lip filler.
"This round was designed to encourage the girls to embrace their natural appearance."
One of the rounds is also a public vote, and you can help Eleanor by voting via text MISS ENGLAND15 to 63333.
Eleanor has used her role in the competition to raise awareness of the chronic condition she suffered so young.
"It's a platform to raise awareness about arthritis in young people, even showing my hip surgery scar off in my bikini photo.
"I was approached by the National Rheumatoid Arthritis Society (NRAS) who asked me to be an ambassador for the charity for young people aged 16-24 with the condition.
"Of course I said yes as spreading awareness for arthritis is so close to my heart, given that for two whole years I was made to feel that my life was ruined and wasn't worth living.
"I want to educate people that arthritis is not an old person's condition but an incredibly serious, painful and debilitating illness which can strike at any age."
When Eleanor had finally overcome her condition, she built up my own business to then have it burgled in November 2018, losing everything.
She applied to Miss Cheshire online simply to give her a focus and boost her self esteem.
"I didn't hear back from the organisers of Miss Cheshire so I assumed my application hadn't been taken any further.
"However, a few weeks later, I received a message informing me that I had missed the deadline for Miss Cheshire, but that I could be entered straight into Miss England instead!
"A phone interview in May confirmed my place, and I was left with 6 weeks to fundraise, help the community and prepare myself for the Miss England semi-finals catwalk."
The Miss England grand final will be hosted by the Gainford Group at the New Bridge Hotel in Newcastle-upon-Tyne on July 31 and August 1.
The winner of Miss England will receive an all-expenses-paid trip to Mauritius as well as a place in the Miss World contest.
Vote for Eleanor, using the details below: