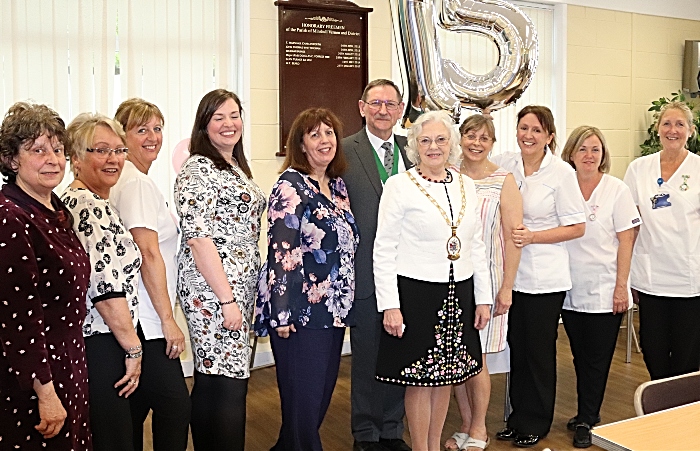 A Leighton Hospital programme that has helped identity more than 140 babies with a hearing impairment has celebrated its 15th anniversary.
Staff and families past and present were invited to a birthday party to mark the Newborn Hearing Screening programme's recent milestone.
Dr Wendy Chandran, who helped to set up the service, was among those who attended the recent event at Minshull Vernon's Community Hall.
She told guests it was "wonderful we can celebrate this 15th birthday" before giving a speech about the programme's developments and achievements since it was established in 2004".
Before the service was launched, babies were up to three-years-old before they had a hearing impairment diagnosis.
This has now reduced to an average of 60-days-old, with babies as young as 90-days being fitted with hearing aids.
Jane Leggett, local manager for the team, said: "Early identification of a hearing impairment means that babies can make the most of social and emotional interactions from an early age.
"Since we introduced the programme in Crewe we've helped to identify more than 140 babies with a hearing impairment that could have potentially been diagnosed at a much older age.
"The birthday party was an opportunity to celebrate our service and just how many families have benefited from it over the years.
"I'd like to thank everyone who has worked for or supported the team over this time for contributing towards its success.
"A number of our staff have been here for many years, some since the service launched, and it's thanks to their dedication that we are able to see and support so many families as quickly as we do."
At least one in every 900 babies born in the UK will have a permanent childhood hearing loss that can significantly affect language and development.
The figures increase to one in every 100 babies who have spent more than 48 hours in a neonatal unit.
The Newborn Hearing Screening service aims to identify babies born with deafness or a hearing impairment at an early age, which gives them a much better chance of developing speech and language skills.
Julie Tunney, Director of Nursing and Quality at Mid Cheshire Hospitals NHS Foundation Trust, which manages Leighton Hospital, said: "We are very proud of our Newborn Hearing Screening programme, which has been recognised as one of the best in the country.
"I would like to thank the team for the consistently high level of care that is offered to local families."
Following an investment to update screening equipment in 2018/19, 100% of all eligible babies born at Leighton Hospital were offered a hearing screen within the first month of life.
100% of babies who were then referred to the hospital's paediatric audiology department for further investigation were offered an appointment within 28 days.