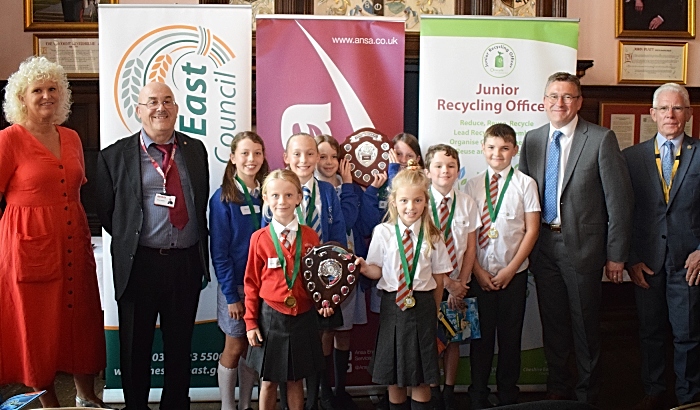 Pupils from a Nantwich school have been crowned recycling champions for Cheshire East with their efforts to reduce, reuse and recycle waste.
A record 180 pupils from 50 of the borough's primary schools took part in the junior recycling officer scheme run by environmental services company Ansa.
And four youngsters from Highfields Academy were among eight youngsters crowned as champions.
Daisie, Jacob, Marianne and Katie were named Junior Recycling Officers of the Year, along with four pupils from Bexton Primary School, in Knutsford.
They were selected after five shortlisted schools gave presentations on their recycling activities.
Reusable beakers, replacing five-litre plastic bottles with sachets for cleaning in school, refilling whiteboard pens when dry and exchanging milk cartons for glass bottles were some of the great examples of their work.
All the young officers also delivered recycling-themed assemblies to up to 500 pupils and organised competitions and the collection of batteries, clothes and shoes for recycling.
The presentations were judged by Ansa managing director Kevin Melling, Ansa deputy managing director Jane Thomason and Ansa board members councillors Steven Hogben and Arthur Moran, current Nantwich Town Mayor.
Cllr Brian Roberts, Cheshire East Council cabinet member for highways and waste, said: "The council is committed to protecting and improving the environment and our junior recycling officers are doing a fantastic job in helping us to achieve this.
"Engaging with young people at an early stage on the importance of recycling and the benefits it brings is increasingly important.
"By educating them, they can pass on this knowledge to their peers, family and wider community."
The awards were held at Reaseheath Hall, in Nantwich, and all finalists received medals and prizes.
The winning schools also received £150 to spend on an environmental project of their choice and a shield to hold for the year.
Cllr Hogben said: "The standard of entries for the awards is always high and this year was no exception – I'd like to congratulate all those who were shortlisted.
"It was very clear that these young people really understand that their work is important in efforts to protect the environment.
"This is very encouraging as the council has recently called for local action to help tackle 'the emergency of climate change'."
The junior recycling scheme, which is free to join and open to all Cheshire East primary schools, has been running for almost 20 years.
Participating schools receive free talks on recycling and reducing waste and officers are provided with the resources to learn and educate their peers.
For more information about the scheme, please contact waste education officer Lucinda Hodges on 01270 686684 or email [email protected]
(Pic: Ansa's Jane Thomason, Cllr Steven Hogben, Kevin Melling and Cllr Arthur Moran)