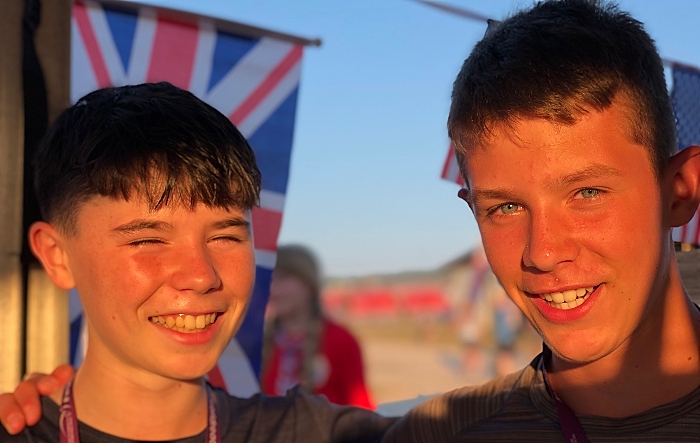 A young Nantwich Scout has been hailed a hero after he and a friend saved the life of a teenager during the World Scout Jamboree in America.
Sam Knight, 14, from Nantwich and Tom Forbes, 15, from Northwich, leapt into action when they watched another scout suffer a horrific mountain bike accident during the event.
The victim suffered a serious head injury when he crashed on one of the mountain bike trails at the Jamboree being held at the Summit Bechtel Reserve in West Virginia.
Sam and Tom managed to stem the bleeding using a towel, applied their APVU training (alert, verbal, pain, unresponsive), treated another witness for shock and managed to call for immediate medical assistance.
Oliver Chambers, a member of the Unit Leadership Team from Cheshire, said: "Tom and Sam were mountain biking when they came across a Scout who had come off a bike and hit his head.
"The Scout was bleeding heavily and drifting in and out of consciousness.
"Sam and Tom acted quickly, took control of the situation, found a towel in the Scout's bag and stemmed the bleeding, applied AVPU sent someone for help and at the same time spotted the signs and treated a friend of the Scout for shock.
"Everything they did was textbook.
"They worked together, remained calm and afterwards were extremely modest about the whole thing.
"The young Scout is now making a speedy recovery."
Cheshire Scouts' Deputy County Commissioner Dave Hopley added: "We are so proud of Tom and Sam who administered some amazing First Aid and saved the life of a fellow Scout on the Mountain Biking course while on activities at the World Scout Jamboree.
"This is an incredibly humbling story of two super hero Scouts from Cheshire, whose quick thinking, textbook first aid skill and ability to keep calm under pressure saved lives.
"Tom and Sam – we are so proud of you!"
Tom and Sam are part of a Unit of 81 Scouts from Cheshire joining 5,000 British Scouts aged 14 to 17 participating this year.
The World Scout Jamboree takes place every four years and this year marks the World Scout Jamboree's 24th anniversary.
The 12-day event, which started last week (22nd July to 2nd August 2019), has seen more than 45,000 young people from 152 different countries come together to take part.
For more details on Cheshire Scouts movement, visit cheshirescouts.org.uk/join #SkillsForLife
(pic, Tom Forbes, left, and Sam Knight)