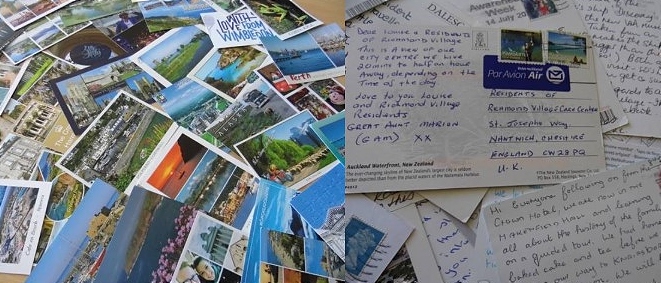 A Nantwich retirement home is helping to take elderly residents away on holidays – without having to leave their home!
Richmond Village Nantwich has launched a scheme to share summer holiday stories with those who are no longer able to travel.
And they are appealing for help from people in the Nantwich area to come forward with their stories.
Members of the local community were asked to send postcards from their travels to the village for residents to read and enjoy hearing the tales from across the globe.
And since launching on Richmond Nantwich's Facebook page two weeks ago, the village has received more than 50 postcards!
The initiative went a long way in boosting moral in the village and combating loneliness that can often be felt.
Senior Village Adviser at Richmond Villages Nantwich, Nicola Jackson, said: "It's been wonderful to see so many lovely messages have come through the postbox – some from fairly far afield!
"Hearing the stories of people's travels has gone a long way in lifting the spirits of residents.
"Many of our frail and elderly residents are no longer able to travel themselves, receiving the postcards allows them to live vicariously through the kind friends of the village.
"As the summer holidays hit, we'd like to encourage anyone traveling abroad or within the UK to write and send a postcard back to the village for residents and staff to enjoy seeing where you've been and hearing what you've been up to!"
You can help by sending in postcard to Richmond Villages Nantwich, St Josephs Way, London Road, Nantwich CW5 6LZ