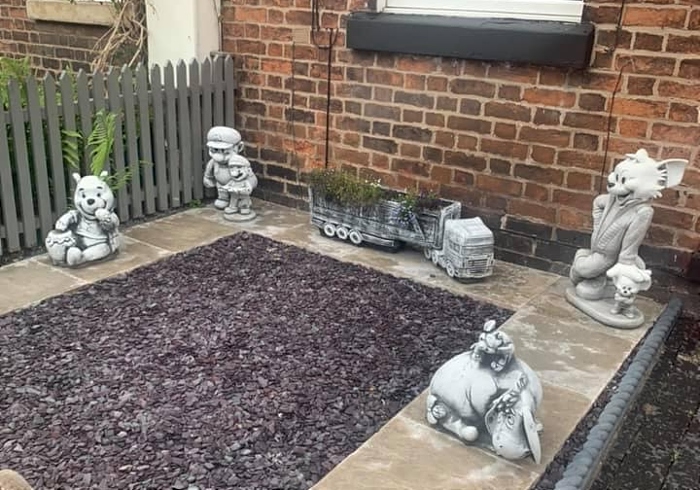 A Nantwich resident is appealing for help to track down Winnie the Pooh who was stolen from his garden!
Chris Rowlands recently revamped his front garden on Marsh Lane and added these decorative ornaments.
But he was stunned when a thief or thieves jumped over his garden wall and stole one of the heavy garden statues, Winnie the Pooh.
Chris said the theft must have happened today, Sunday August 11.
"It's quite a distinctive item as it's the Winnie the pooh statue!" he said.
"It weighs around two stone so it's not really something you could shove under your t shirt and run off with.
"If anyone sees this item on any selling sites or sees it dumped anywhere, please let me know."
The ornaments have been a big hit with neighbours and people walking past the garden
"We recently did our garden up and decided to decorate it.
"It's mad how many of the young school kids stop at our fence and point and stare at them!
"Although it's of no sentimental value, it's just a bit of a downer knowing someone is willing to help themselves."
Chris bought the ornaments from a specialist outlet in Market Drayton.
If anyone sees or knows Winnie the Pooh's whereabouts, email Chris on [email protected]
It's not the first time garden ornaments have been targeted by thieves or vandals.
We revealed in 2018 how Laurence Perry's famous "mooning" garden gnomes in Wistaston were attacked and smashed.
The gnomes made international headlines two years ago when highways chiefs ordered them to be removed as it was feared their "cheeky" poses would distract passing drivers!
But a year later in August 2018, vandals mindlessly attached and smashed 25 of the characters in Laurence's garden and land in front of his home.