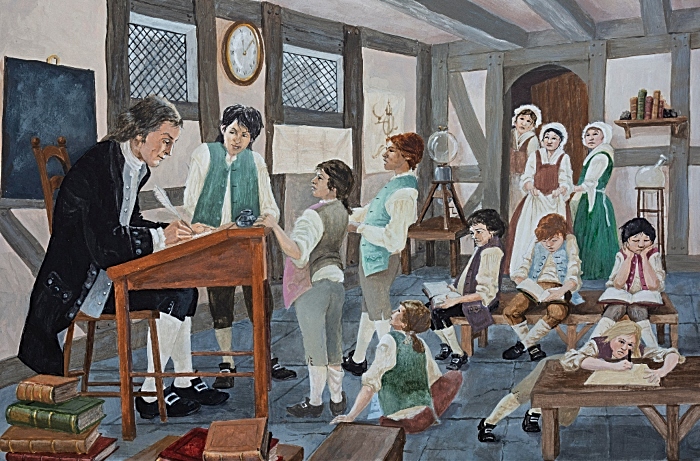 Nantwich Museum has opened its "From Nantwich to Oxygen: Joseph Priestley's Journey of Discovery" exhibition.
The fascinating insight into one of Nantwich's most famous sons is held in the Millennium Gallery and runs until Saturday October 26.
Developed with support from the Royal Society of Chemistry, the exhibition focuses on the life of this famous scientist, theologian and teacher who lived and worked for a time in Nantwich.
The exhibition forms part of 2019's International Year of the Periodic Table of Chemical Elements celebrations.
Priestley discovered oxygen and was a dissenting minister in Nantwich, where he established a school in which he taught a variety of subjects including science or "Natural Philosophy" as it was known at the time.
His pupils were introduced to scientific equipment and experiments and historians have suggested that Priestley's scientific teachings in Nantwich constituted the first ever science lessons.
During his time in Nantwich, he wrote an English Grammar, and he is still recognised as a major figure in the study of English by today's teachers and students of linguistics.
He made significant contributions in the fields of religion and political philosophy emerging as an important, though controversial, international figure and man of the Enlightenment.
Soon after Priestley discovered oxygen in 1774, the Periodic Table, a display of chemical elements arranged according to their properties, came into being and today includes 118 elements.
The museum's Craft Group has embroidered a copy of the Table, which will form a unique feature of the exhibition.
The role and importance of oxygen, the 23rd element to be discovered, will be a key component of the exhibition.
The exhibition will feature an element trail, workshops for children, a Periodic Table-themed Coffee Morning, a drop-in family friendly event and a half-day series of talks.
Meanwhile, a "Treasures from the Museum Collection" exhibition is also on show at the Pillory Street venue.
These are rarely seen images and maps of Nantwich and St Mary's Church drawn from the Museum collection.
These include an architect's drawing of the church and the first pages of the 1539 and 1572 church Register.
Images of lost buildings from a number of local villages can also be seen.
The exhibition is completed with five 1875 Ordnance Survey maps of the town.
Entry to the exhibition is free, but a small charge will be made for some of the special events.
For further information contact Nantwich Museum on [email protected] or telephone 01270 627104, www.nantwichmuseum.org.uk, www.facebook.com/nantwich.museumoffical https://twitter.com/NantwichMuseum