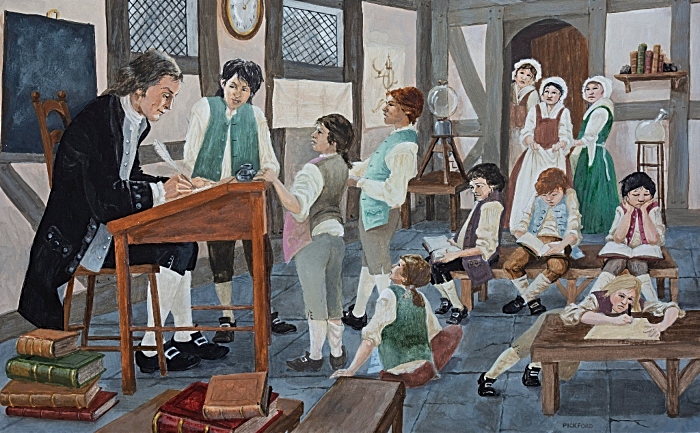 Events are being held to accompany the exhibition running at Nantwich Museum "From Nantwich to Oxygen: Joseph Priestley's Journey of Discovery".
The exhibition, developed with support from the Royal Society of Chemistry, runs until Saturday October 26.
It forms part of 2019's International Year of the Periodic Table of Chemical Elements celebrations.
It focuses on the life of Joseph Priestley, the famous scientist, theologian and teacher who lived and worked in Nantwich.
Among other artefacts, visitors have a chance to see a copy of the first edition of Priestley's book The Rudiments of English Grammar printed in 1761 and based upon lessons given in his Nantwich School.
Also of interest are two sermons written in Priestley's shorthand and preached by him in 1767.
Soon after Priestley discovered oxygen in 1774, the Periodic Table, a display of chemical elements arranged according to their properties, began to be developed and today includes 118 elements.
Entry to the exhibition is free.
Many activities available every day include an Element Trail, Word Searches, Top Trumps, a Selfie Competition and observing a working photosynthesis experiment.
A Periodic Table themed Coffee Morning in aid of museum funds takes place on Friday September 27 10.30am – 12.30pm.
"Priestley's Element" is a free drop-in workshop for families on Saturday September 28 10.30am – 3pm with activities for all ages and the opportunity to investigate chemical elements with real-life chemists.
Participants can take home Joseph Priestley's element – Oxygen!
A programme of short talks, "Joseph Priestley in his Element", takes place on Saturday October 5 1.30pm – 4pm including his life in Nantwich, his friendships with Josiah Wedgwood and other industrial pioneers plus the relationship of oxygen to the Periodic Table.
Tickets cost £6 (Museum Members £5) and are available from the museum.
Contact Nantwich Museum on [email protected] or telephone 01270 627104; visit www.nantwichmuseum.org.uk, https://www.facebook.com/nantwich.museum/ https://twitter.com/NantwichMuseum