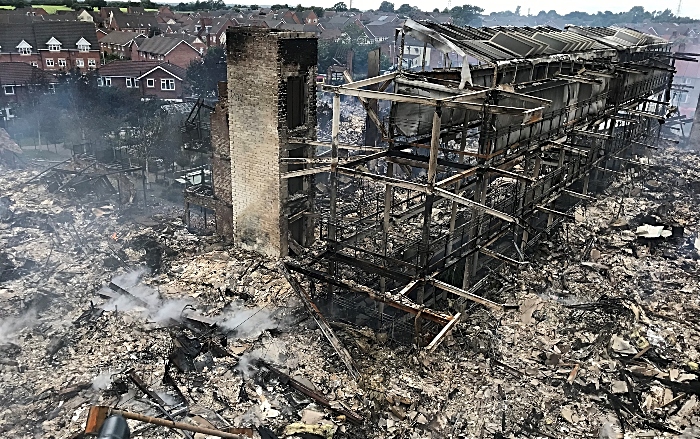 Ministers have instructed building experts to investigate the Beechmere fire in Crewe.
The Building Research Establishment (BRE), a world leading independent organisation, has been asked by the Government to look into how the fire spread so quickly.
BRE provides research, advice, training, testing, certification and standards for public and private sector organisations in the UK and abroad.
Dr Kieran Mullan, prospective Conservative candidate for Crewe and Nantwich, said he contacted the Department of Housing Communities and Local Government about the Beechmere blaze.
In reply, a spokesperson for DHCLG stated it has asked BRE to "investigate the fire at Beechmere and the circumstances that allowed the fire to spread".
It added: "The fire at the Beechmere building complex in Crewe was a terrible event where people lost their homes.
"I would like to reassure you and the residents of Beechmere that we are determined to make sure people are safe and feel safe in their homes."
Dr Mullan said: "I know the overwhelming strength of feeling from people locally was that we need to find out exactly what happened and why to prevent anything similar happening again.
"The government has taken steps to improve fire safety in buildings following the Grenfell tragedy but what happened at Beechmere is different and it is absolutely right it is properly investigated.
"I will follow this investigation closely and fight to make sure any findings are acted on."
Secretary of State for Housing, Communities and Local Government Robert Jenrick MP said: "This Government is absolutely committed to making our buildings and homes as safe as they can be and it is right we investigate what happened at Beechmere.
"I want to thank the local community for the support they have shown the residents and Kieran has made plain the strength of local feeling when writing to the housing ministers in my department."
Around 150 residents lost their homes and many possessions in the blaze in August.
Many have since been found new permanent homes, while others have temporary accommodation.
Around 32% of Beechmere's residents had care needs – and their needs have since been reassessed.
Beechmere was opened around 10 years ago. At the time, developers said it the largest timber content of any major development in Europe.