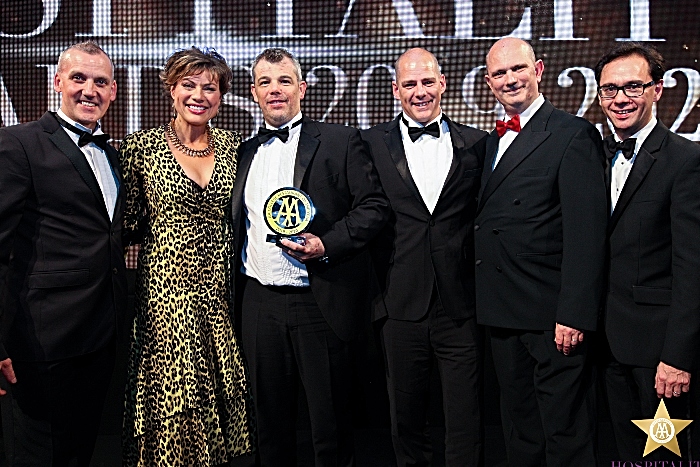 AA College Rosette deli and restaurant the Academy has won the prestigious AA College Restaurant of the Year Award 2018-19.
The training restaurant in Cheshire College – South & West received the accolade during the AA Hospitality Awards in London.
It is the second time the Academy has received the award after scooping it in 2017-18.
The award recognises accredited colleges within the AA College Rosette Scheme that have shown outstanding achievements in a realistic working environment.
The Academy Restaurant of the Year following a day of judging held at the Park Plaza, Westminster Bridge, in London earlier in the summer.
Mark Parsons, assistant principal at the college, said: "This is an absolutely fantastic achievement for all of the team and learners who work at the Academy.
"To have won AA College Restaurant of the Year for the second time is a privilege, which is both humbling and inspiring.
"I hope that our reputation within the Cheshire community continues to grow and attract talented chefs who can train at the best College restaurant in the country."
The AA College Rosette Scheme was designed to recognise the efforts of learners, both front and back of house, who are the future of the hospitality industry.
Andy Doyle, Membership Operations Manager at Peoples 1st International, said: "Throughout the competition the team from Academy impressed with their passion, confidence and forward-thinking approach.
"This was exemplified by the presentation from their learners to the panel of judges where they highlighted the commercial attitude of the College with outside events, connections with Nantwich Town and other local businesses.
"These ensure they are experiencing the diversity that the hospitality sector has to offer, enabling them to decide on their chosen career path and gain the experience and knowledge to make themselves appealing future employees.
"Congratulations to all involved."
(Pic: Left to right – Shane Guilford, Lecturer in Hospitality and Catering, Kate Silverton, AA Hospitality Awards Presenter, Daniel Hunter, Assistant Director – Hair, Beauty, Hospitality and Retail Operations,. Mark Parsons, Assistant Principal Curriculum – Faculty of Services, Engineering and Construction , Andy Doyle, Membership Operations Manager at Peoples 1st International and Simon Numford, Managing Director at AA Media)