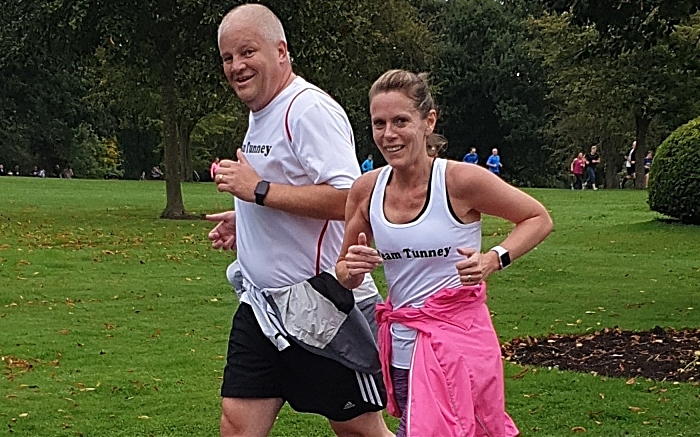 A director at Leighton Hospital ran a marathon to raise money for a baby bereavement suite appeal.
Julie Tunney, director of nursing at Mid Cheshire Hospitals NHS Foundation Trust, completed the Mallorca marathon to raise money for the "Lost Little Ones" appeal.
The appeal will help Mid Cheshire Hospitals Charity provide funds to create a dedicated suite and attached outside space on the labour ward for people suffering baby loss.
The suite allows parents to stay together with their baby in a comfortable, non-clinical environment to spend quiet time together away from the rest of the ward.
Julie (pictured) completed her final piece of training at the Crewe Park Run, where she officially launched the appeal.
She was joined by colleagues and members of the public to complete the 5km run around Queen's Park, Crewe.
Julie said: "I am very proud to have launched this campaign which we are confident will lead to our award winning maternity unit being able to offer more help and support to families who need it at a difficult time.
"Whilst a marathon is a big challenge, it is nothing compared to what families can face."
Amy Cartwright, customer care officer at the Trust, who lost her daughter ten years ago, also took part in the park run.
She said: "I'm honoured to have taken part in the run in support of Mid Cheshire Charity's appeal 'Lost Littles Ones.
"This appeal is especially close to my heart as ten years ago we came to hospital to be told our unborn baby girl, Lucy, had no heartbeat and had passed away.
"We were completely devastated.
"We had imagined a lifetime with her but now had to make as many memories as we could in a few days.
"To be able to do that in a comfortable, private space in the hospital was invaluable to us."
Jenny Butters, head of midwifery, said: "Sadly every year we have to support parents going through the trauma of baby loss.
"So to be able to provide them with a comfortable, non-clinical space where they can spend precious time with their babies is very important to the whole team.
"We would also like to give a special thank you to Julie for supporting the appeal."
The Mid Cheshire Hospitals Charity is keen to share information about how local groups and organisations can be supported in their fundraising efforts by them.
Contact Carole Salmon, Community Fundraiser on 01270 273248 / 07467 687998 [email protected]