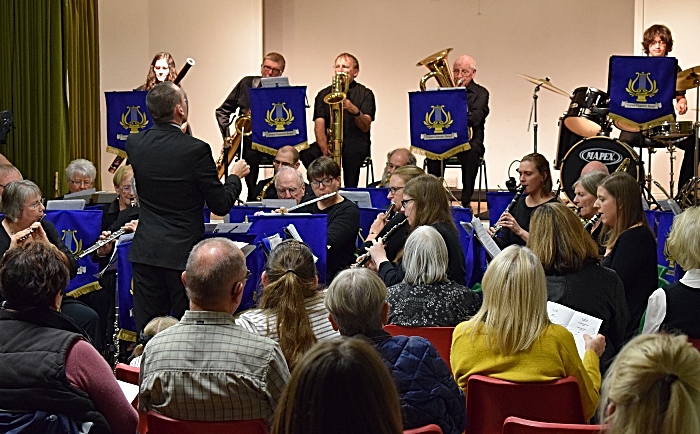 A 'Musical Extravaganza' fund-raising concert took place at Wistaston Memorial Hall & Community Centre.
The concert featured Crewe Concert Band conducted by their musical director Adam Shilton.
Crewe Concert Band performed a variety of music including Army of the Nile (Kenneth J. Alford), Skyfall (arr by Jay Bocook), Grease! (Warren Casey and Jim Jacobs), A Tribute to Benny Goodman (arr by Richard Hayman), Misty (Erroll Garner), Titanic (James Horner), and Candle in the Wind (Elton John and Bernie Taupin).
They also performed Nimrod (Edward Elgar), Queen in Concert (arr by Jay Bocook), Barnard Castle (Goff Richards), The Magic Flute Overture (Mozart), Pirates of the Caribbean (Klaus Badelt), Jerusalem (C Hubert H. Parry), You Raise Me Up (Rolf Løvland), Fame (Michael Gore), One Moment in Time (arr Frank Bernaerts), Hymn to the Fallen (John Williams), The Blues Brothers Revue (arr by Jay Bocook) and You Can't Stop the Beat (from Hairspray, Marc Shaiman).
Welcome refreshments were provided during the interval by Audrey Astbury and her team.
There was also an information stall, staffed by George Edge-Robinson, for advice about the numerous groups and societies that use Wistaston Memorial Hall throughout the year.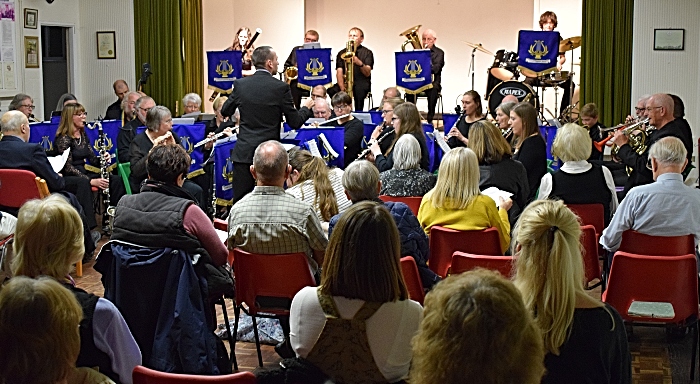 A raffle was organised by Glenys White and Helen Heath and raised £52.
Money raised will be shared between the Wistaston Memorial Hall and Crewe Concert Band.
Wistaston Memorial Hall was built 70 years ago this year in memory of the 16 men from Wistaston who lost their lives in the Second World War.
The concert was part of the 70th anniversary celebration.
A member of the hall's management committee said: "The concert showed what good, live music can do to inspire the players and audience to enjoy and appreciate popular tunes together."
Crewe Concert Band rehearse on Thursday evenings from 7:30pm – 9:30pm at Wistaston Memorial Hall, Church Lane.
For further information visit http://www.cwecb.co.uk/ or phone 07933916212
Events in the near future at Wistaston Memorial Hall include Tuesday October 22 – Annual Hall Quiz; Sunday  November 10 3pm – Service of Remembrance.
For further information visit: https://www.facebook.com/wistastonmemorialhall/
(Pics courtesy of Jonathan White)