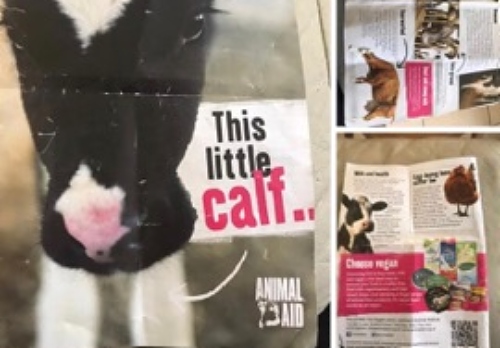 Parents blasted what they labelled Animal Aid "anti-farming propaganda" delivered to young pupils at a Nantwich school.
They say year 8 youngsters at Brine Leas were handed leaflets (pictured) which "misinformed" children about farming methods in a bid to turn them against eating meat.
Now headteacher David Cole has been approached by the National Farmers Union who aim to talk to students so they receive the other side of the debate.
Animal Aid denied it was "propaganda" and say the talk was based on facts and was appropriate for the age group.
But one parent Dan Jones, who runs a farm near Audlem, said: "We called him (headteacher) and we said we would be happy to go in and invite pupils or whoever to come on to our farms to see the truth.
"The fact that someone has been allowed into a school of education to push veganism…in a way we shouldn't need to go in to do the counter balance!
"Kids should be taught maths, science, languages at school.
"To be fair to my daughter, who spends a lot of time on the farm, she stood up and pointed out not all farms are the same and a lot of the leaflet was misinforming.
"She was patronised and mocked by whoever the person was and angered!
"This in my eyes is massively wrong.
"I think the school has been very naive and were not on board with the whole thing."
Hundreds of people shared Dan's post on social media and commented in support.
Carl Hudspith, of NFU Cheshire, said: "The NFU has been informed that Animal Aid was invited into Brine Leas School and promoted an anti-farming agenda in class.
"Unhappy with the content of propaganda style leaflets given to pupils, headteacher David Cole has contacted NFU Education and NFU Cheshire County Chairman Richard Blackburn to apologise and to ask if we can send some farmers into school to rectify any damage caused.
"The NFU North West team sees this as a huge positive that our message to schools about NFU Education is working.
"Our team of farming ambassadors are all working in the agricultural sector and are able to offer unique insight from industry into the key issues around food and farming.
"We work with our ambassadors to ensure they equipped to speak to a secondary school audience.
"They can deliver a presentation to a group followed by a Q&A session promoting discussion amongst pupils."
Mark White, spokesman for Animal Aid, says their talk was based on facts and was "appropriate" for the age group.
In a statement, he said: "The Animal Aid education department were invited to run a series of sessions on general animal rights with Year 8 Religious Education students at Brine Leas School in Nantwich.
"The speaker received excellent feedback following the talks from the teacher who invited us in.
"We have previously run sessions in Brine Leas School and we have been invited back due to the quality of the sessions that we run.
"We pride ourselves on running sessions that are age appropriate, tried and tested over many years and designed to fulfil the teachers' educational requirements.
"Our trained volunteer speakers do not tell students what to think, rather they (as the teacher who invited us in said), focus on 'providing the facts to pupils to allow them to make their own informed decisions'.
"In Religious Education students consider the moral and ethical aspects of how animals are, for example, used in sport, reared for food and utilised as research tools in laboratories.
"Only when students are given an opportunity to be informed of the facts can they make informed choices.
"We don't claim to offer a 'balanced case'. The provision of 'balance' to the case we present is the responsibly of the school."
We contacted Brine Leas headteacher David Cole for his comments and are awaiting a reply.