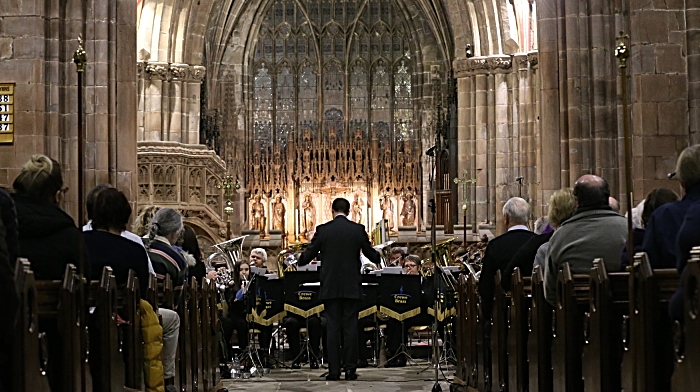 A number of musical concerts are to take place in South Cheshire over the next few weeks.
Worleston Music School's next performance is at 7pm on 16th November at St Mary's Church Nantwich.
Programme Strauss Till Eulenspiegel Merry Pranks, Vivaldi Bassoon Concerto No. 5 in D minor. Soloist is Andrew Bassey plus Francaix Octet, and interval with Anne's cakes.
Tickets from the St Mary's Shop, Nantwich Civic Hall and visit www.worlestonmusicschool.co.uk
The fund-raising Shires Symphonic Wind Orchestra, which is soon to cease due to low numbers, will stage two final performances.
Led by conductors Andrew Bassey and Tim Reynish it has helped raised more than £1,000 for Dementia and NHS charities.
Its last two rehearsals are on November 7 (with AGM) and December 5 (final Committee meeting).
Two final events this term are at 4.30pm on November 3 at Treatment Centre of Leighton Hospital, Featuring Shires Small Ensembles and the Indian Choir of Great Britain.
A Marie Curie Concert is being performed by The Funky Choir at Nantwich Methodist Church, Hospital Street in aid of Marie Curie on 16th November, 7pm for 7.30pm.
And the Shires Small Ensembles will appear at Tesco in Crewe on December 19 at 5pm – 7pm alongside Worleston Community Orchestra to raise more funds for charities.
Crewe Brass presents its annual Christmas Concert in St Mary's Church in Nantwich on Saturday 14th December.
Joining the Band this year is the choir from Elworth Hall Primary School under the baton of Love Music Trust's, Tania Virdie, and also back after her spectacular performance in the summer is Emma Radcliffe, from Liverpool Cathedral.
Tickets are £8 for adults and £5 for concessions (under 16 & over 65), available from the Parish Office next to the church, the school office or by calling the ticket line on 01270 747317.