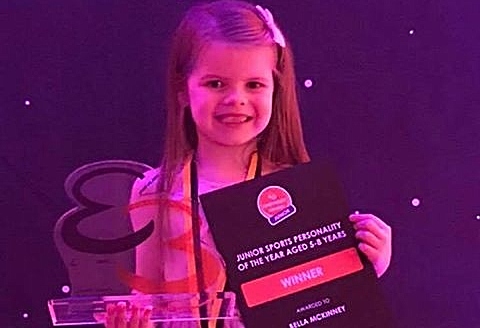 A young Nantwich girl has scooped honours at the Everybody Junior Awards in Cheshire East.
Bella McKinney was named Sports Personality of the Year for the aged 5-8 category at the awards.
It crowns a remarkable year for six-year-old Bella who has won gymnastics medals and accolades.
Judges at the awards said: "Bella shows dedication at such a young age by training three times a week for her gymnastics and her coaches say she always gives 110% to everything she does, and her ambition is to one day compete in the Olympics!
"As well as her dedication to gymnastics, she also regularly attends other classes including dance and swimming.
"Bella's maturity and dedication to her sport is amazing.
"She always tries her absolute best and is always happy. Her level of skill at gymnastics is fantastic and she recently won an array of golds at her latest competition."
She was among a number of children aged 5-11 years old were recognised at the annual Everybody Junior Awards for their inspirational efforts and contributions to local sporting success.
This year, nearly 100 nominations were received over seven award categories including; Junior Member of the Year, Everybody Swim Rising Star, Junior Achiever of the Year, Everybody Family of the Year, Junior Sports Personality of the Year 9-11 years, Junior Sports Personality of the Year 5-8 years and Junior Helper of the Year.
Kerry Shea, director at Everybody Sport and Recreation, said: "The Junior Awards get better every year.
"It's amazing to see how many talented children we have in Cheshire East, the afternoon was great and all finalists and winners were celebrated."
Other award winners were Grace Murray (Junior Member Of The Year); Amelia Yoxall (Everybody Helper Of The Year); Ruby Stonier (Everybody Swim Rising Star); The Beevers family (Everybody Family Of The Year); Oliver Johnson (Junior Achiever of the Year); Oliver Edwards (Sports Personality Of The Year 9-11 years); and Ned Pearson (Junior Superstar Award);
For more information about the Junior Awards, visit www.everybody.org.uk