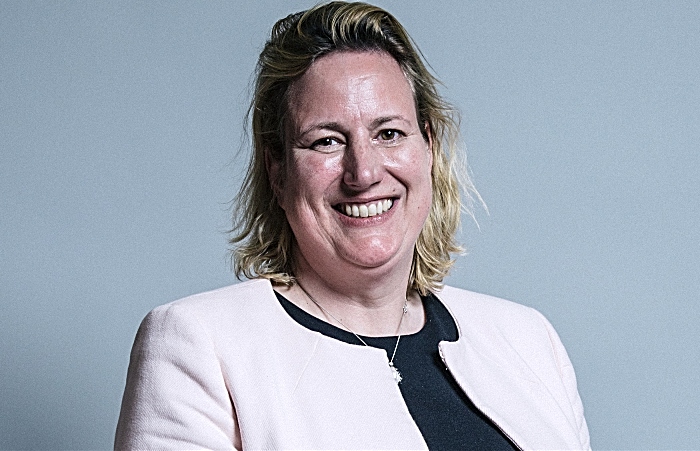 As the country prepares to head to the polls on December 12, the Local Democracy Reporting Service has been interviewing all candidates in Eddisbury.
Antoinette Sandbach discusses her chances of be re-elected as a Liberal Democrat.
You have been Eddisbury MP for four and a half years – how would you assess that time?
I think I have got a really strong local record. I am particularly proud of the fact that the new women's football training centre is going to be coming to Winsford, which is a massive £70 million investment.
Also, I encouraged the council to buy Winsford Cross shopping centre so we could get regeneration, and helped to secure an £80,000 grant that has allowed the plans to be developed for the Future High Streets Fund.
Those plans are being consulted on at the moment so I would ask residents to make their views known.
2019 has been a big year for you personally – I think if I told you in January you would be running as a Liberal Democrat election candidate in December you would not have believed me…
I think Brexit has not only changed our political parties but it has changed families, and we can see that on the doorstep.
Both the Conservatives and Labour have moved to the extreme in terms of the way their party politics is developing. I feel very sad that the Conservative Party has no room in it for Kenneth Clarke and other outstanding previous Conservative MPs – Nicholas Soames, Dominic Grieve.
But I am very happy to be standing for the Liberal Democrats.
You were a Conservative MP until September, so do you really have the Liberal Democrats' values?
The Lib Dems have always been strong local champions and my work in Eddisbury over the last four years has shown I am that strong local champion.
The Lib Dems want to stop Brexit – either completely in a majority government, or through a second referendum. Do you believe that is the right solution?
Yes I do. When people voted leave they were not voting for one particular type of leave.
Some people were voting for a Norway-style agreement and were told they would stay in the single market, other people were told or had the impression that they were voting for a no deal Brexit.
What a new referendum does is allow people to look at the impact of what the proposed deal is and compare that to what they thought they were voting for, or to look at remain.
Could a second referendum not cause further divisions in society?
I thought that at one point and that was my stance for a long time. It was the reason I voted for compromise three times – I voted for the compromise deal more times than the current Prime Minister did.
A lot of leavers wrote to me and said that deal was not Brexit. That made me realise that actually, it does not matter what Brexit is being delivered, some people won't think it is Brexit.
Therefore I think it is really important to check that this is really what the country wants – I think this is a way of doing so in a respectful way.
The abuse I have had – mainly from Brexiteers – over the last three years has been absolutely horrendous. I think we need to get back to logical, reasoned debate and argument, actually looking at the detail of what is proposed and not just slogans.
Eddisbury is a rural constituency – what do you think is in the best interests of the farming community?
Have a look at what Phil Latham, an Eddisbury farmer, has said – there is a video on my website.
Brexit will have a devastating impact on farming. All those rules and regulations that people complained about, a lot of them are made in Britain, they are from UK Parliament.
What will happen is that British food will compete against cheaper competitors coming in from elsewhere that does not have the same animal welfare standards as the UK.
There will be no one that will stop that coming in.
So what Lib Dem policy would support farmers?
The best policy for farmers is to remain in the EU. That is the policy of the Lib Dems.
The EU has delivered rural broadband in Eddisbury that helps farmers to submit cattle movements, it has helped to pay for environmental schemes that farmers have on their land, that support our wildlife.
You mention the internet – some communities in Eddisbury struggle to access broadband. Labour wants to nationalise broadband infrastructure – is that the right approach?
No, I think that the Labour stance is very wrong – they seem to want to nationalise everything.
Superfast broadband connections in Eddisbury have gone up by 134 per cent since I was elected as MP. We have the highest number of fibre to the premise connections in the whole of Cheshire.
That is because of the support I have given to individuals and companies to use community broadband schemes and to get properties quality broadband through fibre to the premise.
What we need to do is make sure those gains are felt by other people that don't have superfast broadband – 85 per cent of Eddisbury residents have access to superfast, but we need to fill in those gaps to make sure everybody has the same quality internet connection.
We don't drink different types of water, people are connected to the mains, and we should treat the internet in the same way as a universal service that everyone is entitled to.
Winsford's regeneration has been on the agenda for a while – what needs to be done?
I sit on the Mid Cheshire Development Board and we are really excited about the regeneration plans.
Winsford has made the shortlist for the Future High Streets Fund that I have worked together with the council on to support the application, the plans are being considered at the moment and the consultation closes on January 12.
But it is absolutely clear to me that Winsford needs regeneration in the town centre and, working together with Cheshire FA, I think we can deliver a really exciting future for Winsford.
Winsford also has some of the most deprived areas in Cheshire. How would the Lib Dems help?
The Lib Dems have said they would invest £6 billion from the remain bonus into Universal Credit and into benefits. They would also lose the two-child cap which has been imposed by the Conservatives.
They would increase the local housing allowance for people in private rented accommodation – and that is a real problem, we don't have enough social housing and the rates have been frozen for a long time.
A lot of families are paying a large proportion of their income on rent.
The way Universal Credit was rolled out by your old party, the Conservatives, has been seen as a driver of poverty in recent years. What should happen to Universal Credit?
Lots of residents in Winsford will have seen how I have helped them with an issue involving Universal Credit
It has been very popular with Jobcentres because it has helped people access the skills and training they need to get into work.
The real problem has been with the five-week delay in payment that gets people into debt. Winsford residents will know I have helped them access early payments, but also Lib Dem policy is to make sure that delay is stopped.
What would the Lib Dems do to help Winsford's schools continue to improve and meet growing demand?
The Cheshire schools are some of the worst funded schools in the UK. Our councils have fallen into the F40 group, for the 40 worst funded councils in terms of school funding.
We need a much better offer in terms of school funding. Lib Dem policy is to increase the pupil premium to £1,000 per pupil and to give the funding and support to schools they need.
It's clear that Lib Dem policy is to invest more into education because it gives people the opportunities they need for a bright future.
You have been a vocal critic of HS2 as Eddisbury's MP – is that a battle you will keep up if re-elected?
The location of the big four acre train washing site in green field right next to one of my schools is clearly the wrong thing for HS2 to do and I would continue to oppose that.
I think the way HS2 has handled compensation claims for people whose properties are on the route has been absolutely atrocious. I think there needs to be far better accountability from HS2 that has left constituents fighting for the proper valuation of their homes.
I think it is terrible the way HS2 has dealt with people in this constituency, but if it does come to Crewe we need to use the opportunity to open new stations in Eddisbury – such as Beeston – and to make sure we have better local train services.
We need to have a hub and spoke system with a proper, integrated, good train service provided through Eddisbury – which we lack at the minute.
Finally, you have a day off – no work or campaigning to do. How would you spend your ideal day in Cheshire?
I have two dogs so I think I would walk along the Sandstone Trail, which is a beautiful walk, and have a nice lunch in one of our fantastic local pubs.