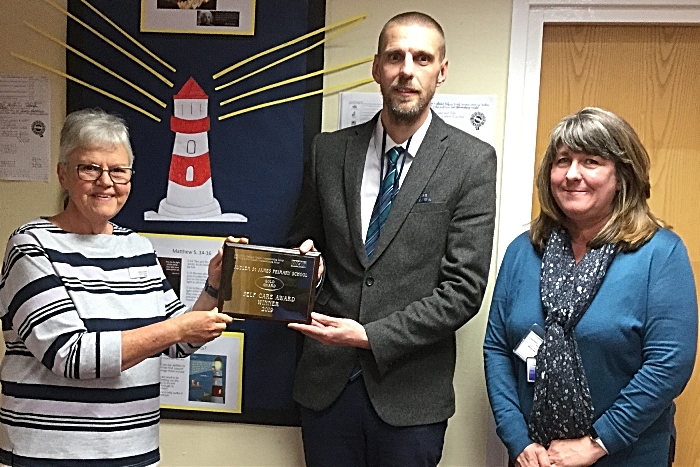 Audlem St James Primary School has become the first school in Cheshire to successfully achieve an NHS Gold Self Care Award.
The award is part of a programme by NHS Cheshire Clinical Commissioning Group (CCG) to promote the benefits of self care in local communities.
The initiative aims to roll out messages using trained Self Care Champions and is targeting students and working populations.
To achieve the award, the school made significant steps toward promoting self care in their school.
They introduced a "safe place" emotional wellbeing box into every classroom which has calming toys in and gives children a chance to step away for a moment.
They rolled out the Government's Activity Passport campaign which was created to inspire schoolchildren and boost resilience.
The school established a parent network that will have links with the Emotionally Healthy Schools project.
The parent network is also an interactive space to share presentations and information and to give parents the opportunity to have peer to peer conversations.
Special Educational Needs Coordinator, Key Stage 1 Lead and Teacher Nicola Richardson said: "We believe our best resource is each other, so if we have the opportunity to share experience, resources and advice then we will grow in strength.
"We hope to enable families to share information and develop skills but also to provide a social network.
"We believe children, parents and staff working together, with a shared understanding of needs, goals and strategies employed, is the most effective way to work.
"Through our carefully planned curriculum, events and celebrations we aim to provide the children in our school with a toolkit that helps them to deal with the challenges that they may face.
"The children are at the centre of all that we do and promoting wellbeing is the thread that underpins our practice.
"Our ultimate aim is for the children in our school to feel confident and empowered to 'Let their light shine."
Noreen Caldwell, Public Engagement Manager for NHS South Cheshire CCG, said: "I am so proud of all the work that Audlem St James Primary School have put in to achieve the NHS Gold Self Care Award.
"It's been brilliant to see how they have got staff, pupils and parents all involved in promoting and creating a healthier happier place for their students."