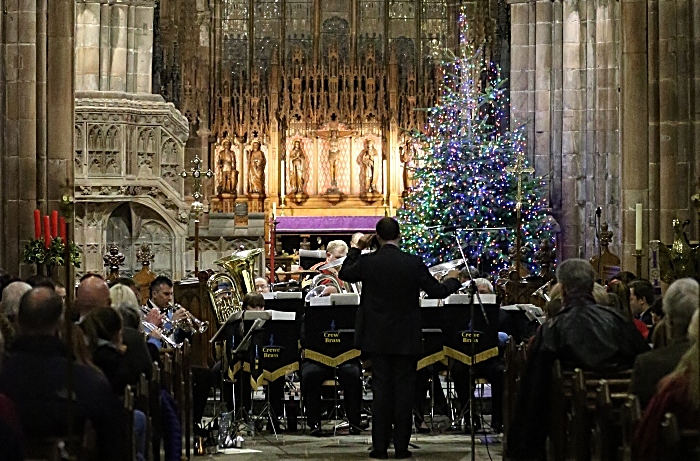 The annual Crewe Brass 'Merry Christmas Nantwich' concert took place in the festive surroundings of St Mary's Church in Nantwich, writes Jonathan White.
The concert featured Crewe Brass, Elworth Hall School Choir and four vocalists.
Matt Pithers from Crewe Brass was Musical Director and also introduced each piece of his band's music.
Elworth Hall School Choir prepared for six weeks for the concert and sang numerous Christmas songs under the direction of Love Music Trust's Tania Virdie and headteacher Emma Clarke.
Unfortunately, vocalist Emma Radcliffe was unavailable due to laryngitis, but Hannah Lewis, Phoebe Crewe, Tandie Stahl and Jonathan Schendel replaced her at the last minute with solo, duet and trio performances.
The concert featured a mixture of brass band music, vocal scores, and carols, including a fantastic 'O Holy Night' euphonium solo by Ieuan Roberts.
The concert reached a crescendo with a rousing 'We Wish You A Merry Christmas' sung by the choir, the musical ensemble and the audience accompanied by Crewe Brass.
It will be broadcast on Hospital Radio on Christmas Day.
Concert organiser Robert Richardson said: "I felt so sorry for Emma who couldn't even speak let alone sing, but Tandie, Hannah, Phoebe and Jon stepped in at the eleventh hour and were absolutely amazing.
"Elworth made the night so magical and I bet their parents were bursting with pride and a donation will be made to the school's music fund.
"I'm also so proud to be part of Crewe Brass, who as a charity rely totally on the public to survive.
"I'm chuffed to bits that the public responded and loved it."
For further information relating to Crewe Brass search Crewe Brass on Facebook, visit http://crewebrass.co.uk/ or email [email protected]
For information relating to Christmas Services & Events at St Mary's, Nantwich visit http://stmarysnantwich.org.uk/