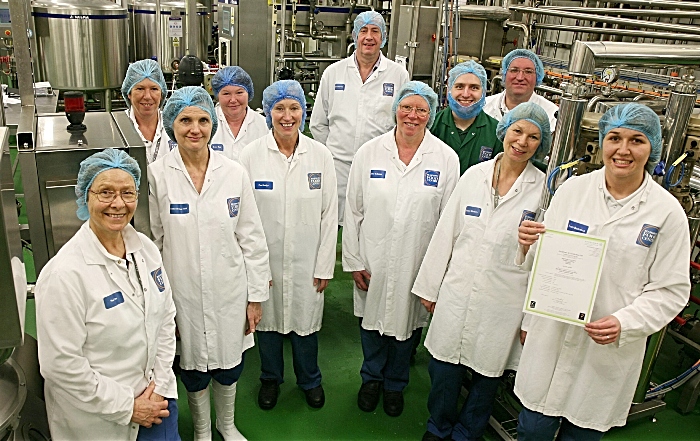 Reaseheath College's food centre in Nantwich has achieved the highest standards of food safety and hygiene.
The centre was awarded the Grade AA standard for the second year running after being audited by the British Retail Consortium Global Standard (BRCGS) Version 8.
In 2018, Reaseheath became the first educational institution in the world to achieve the Grade AA certification.
It is the highest possible benchmark for best practice in food manufacture.
The updated BRC Version 8 includes new clauses on food safety culture, site security and threat of adulteration.
Processing halls manager Mike Bennett said: "As always this was a tough challenge and we are delighted at the result.
"The auditor spent many hours talking to staff and students to gain an understanding of their level of food safety knowledge, as well as checking hygiene standards and scrutinising our policies and procedures.
"The auditor was extremely complimentary about student knowledge and their ability to work to industry standards.
"Huge credit goes to Quality Co-ordinator Laura Bateman for her tireless efforts to implement the new standard and ensure compliance.
"The performance of the whole food team has been outstanding, with everyone contributing to ensuring an excellent outcome.
"This result demonstrates that the team has an exceptional food safety management system in place and shows commitment and continual improvement around food safety.
"This is a fantastic achievement and we are pleased to have reduced the number of non conformances while working to a higher standard."
The team includes Laura Bateman, Senior Technician Jenny Tait, Food Technologists Jen Newall, Penny Masters, Kate Chantler, Zoe Hodge, Jane Gilman and Sue Moors and Maintenance Engineers Damien Murphy, Andy Garnett and Elliott Bateman.
Reaseheath's £7 million Food Centre was opened in 2011 and remains one of the best equipped food processing teaching and practical facilities within an education institution in Europe.
For further details see www.reaseheathfoodcentre.com