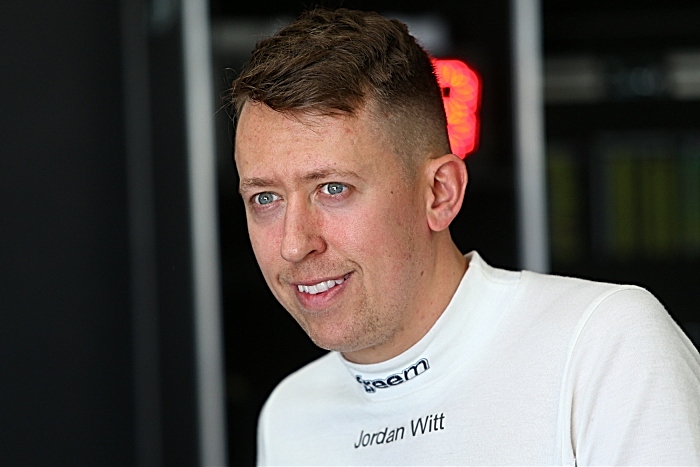 Nantwich racing driver Jordan Witt will compete in selected rounds of the Intelligent Money British GT Championship this year, he has confirmed.
The 29-year-old will compete alongside his existing commitments in the GT World Challenge Europe Endurance Cup.
Witt will return to action in the UK's premier endurance racing championship, is to contest three of the category's seven events with JMH Automotive at the wheel of a Lamborghini Huracan GT3 EVO.
Witt will partner the car's owner John Seale, a former GTC class champion in the GT Cup and a driver with experience of the British GT Championship, at the wheel of the Lamborghini Huracan GT3 and also a Ferrari 488.
Witt's return to British GT means 2020 is a busy year for the Cheshire racer having last month signed with Barwell Motorsport for the GT World Challenge Europe Endurance Cup.
Witt has already tested successfully with JMH and he cannot wait for his maiden race outing with the squad, which will come at his and the team's 'home' track, Oulton Park in Cheshire, over Easter weekend.
"It's fantastic to have the opportunity to be back in British GT, and I'm really looking forward to partnering with John and the guys at JMH," said a delighted Witt.
"I tested with the team a couple of weeks ago and everything went very well, the guys did a great job with the car and were very professional.
"John obviously has experience of British GT, as do JMH, so we're aiming to do the very best job we can and enjoy some exciting races – the 2020 grid looks incredible.
"It'll be great for my development as a driver as well to get more mileage in a Lamborghini, the races in British GT will complement my racing in GT World Challenge perfectly."
JMH Automotive is based in Holmes Chapel just 15 miles away from Witt's home in Nantwich.
It has enjoyed success in endurance championships over the years – not least in the GT Cup where the squad won the Team Trophy in 2016.
Winning the drivers' title several years before in 2011, numerous top three championship finishes followed including with Seale in 2018.
Following the British GT Championship curtain-raiser over Easter weekend, Witt will rejoin JMH for the final two race meetings of the campaign at Brands Hatch Grand Prix Circuit in Kent August 29-30, and Donington Park September 19-20.