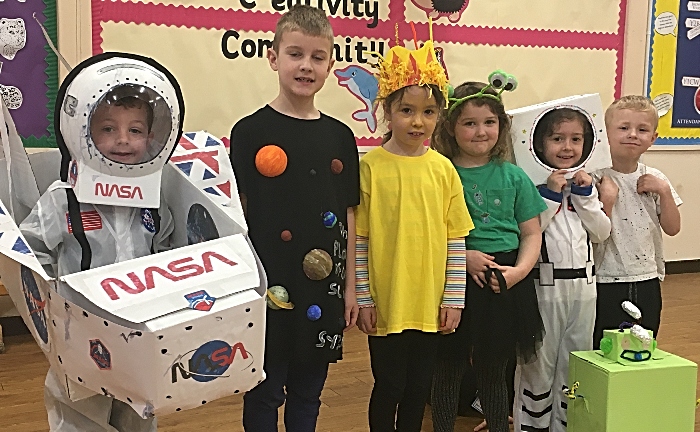 Pupils at Wistaston Church Lane Academy were over the moon when they sent their mascot, Joey the Swan, into space!
The whole school has been studying "Space" as a cross-curricular theme this term.
And pupils have learned about space travel, planets and night and day.
University of London Professor Carl Murray, a scientist who has discovered two of Saturn's moons, visited school to talk to older children about his life studying astronomy and physics.
Children have walked 10.9 kilometres around the school grounds, collecting sponsors, and it represents the 10,921 kilometres distance around the moon.
And the highlight came when a team from Sent Into Space came to school with a weather balloon and launched Joey the Swan up into space.
The whole school gathered on the playground and watched as the balloon inflated.
Joey was attached safely and was kitted out with a school jumper!
GPS and video equipment were included so that children could track the three hour journey.
He travelled up through the clouds and into the earth's atmosphere. Joey landed just after 3pm in a field near Lincoln.
The school's science subject leader, Emma Kinsey live streamed the launch on Facebook and hundreds of people watched it live and many more watched it later.
Wistaston Church Lane Principal James Bancroft said: "The learning that has come from the whole fortnight has been incredible, and it has been amazing to watch how inspired the children have been.
"The space launch was a once in a lifetime event which none of us will ever forget. We will be displaying lots of work from the project in time for our parents' evening.
"I would like to thank our amazing team for inspiring the children so much over the last couple of weeks. Also, our PTA paid for the space launch and we are really grateful."
The video of Joey's journey and our own video of the launch can be found on Facebook.
Both can be downloaded at https://www.wcla.co.uk/joey-in-space/