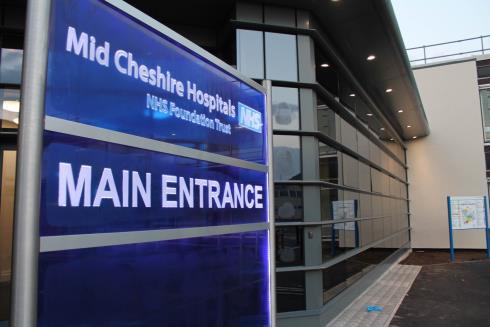 A new satellite testing centre is now open at Leighton Hospital for swab testing a wider group of key workers showing signs of Coronavirus.
The centre will also be available to key workers living in a household with others who have symptoms.
The Satellite Testing Centre (STC) at Leighton Hospital, managed by Mid Cheshire Hospitals NHS Foundation Trust, joins one of three in the region, with sites also at the Countess of Chester Hospital and Liverpool City Centre, both of which launched this week.
But this satellite centre allows South Cheshire population to attend testing more locally to where they live.
The centre will enable key workers who have been self-isolating because they, or members of their household, are symptomatic to continue to work, if they and/or other members of the household test negative.
When a key worker or family member has their result, they will have a better understanding of their condition or situation.
They can then discuss this with their employer to determine whether they can return to work – helping the country to beat coronavirus quicker.
There are Regional Testing Centre's (RTCs) already in place at Haydock, Manchester Airport and Preston College.
Denise Frodsham, Director of Strategic Partnerships at Mid Cheshire Hospitals, said: "We are very pleased to be supporting COVID-19 testing for key workers across Cheshire by setting up and managing the new satellite testing centre at Leighton Hospital.
"This facility is going to play a crucial part in our region's response to Coronavirus."
Terry Whalley, Cheshire and Merseyside Testing Incident Director, added: "I'm delighted that colleagues at Mid Cheshire Hospitals NHS Foundation Trust, working closely with colleagues at Cheshire CCG [Clinical Commissioning Group] have been able to set up this testing centre so quickly.
"Offering more convenient access to testing is very important to us all as we seek to tackle the threat of Coronavirus."