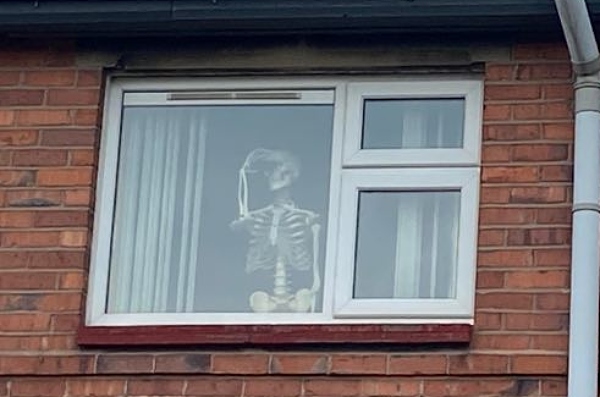 The COVID-19 "lockdown" has felt like an eternity to some – but this poor guy in Nantwich is beyond help!
Restrictions on movement have been a "bone" of contention for many, but it's clearly kept some of us indoors a lot longer than others.
This skeleton can be seen looking out over the River Weaver from his bedroom window in the Manor Road area of town.
With binoculars in one hand, he's looking desperately for the lifting of lockdown restrictions as we enter our seventh week indoors.
But when it eventually arrives, it'll be too late for this chap.
Sometimes a little light relief can help us during these very difficult and tragic times for  many thousands of people.
So if you have taken any humorous, light-hearted pictures which could raise a smile for our readers through the current COVID-19 pandemic, please send them in.
Email them with your contact details, to [email protected]
(Pic courtesy of Vicky Higham, who spotted him during her daily walk)