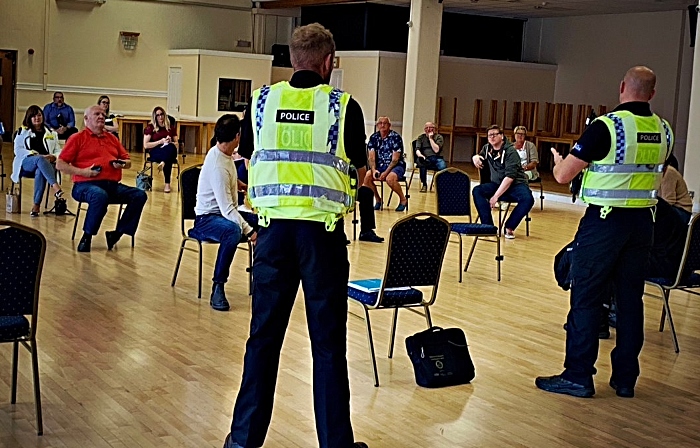 Residents in Nantwich and Crewe are being urged to remain vigilant and "act responsibly" as pubs and restaurants reopen this weekend.
For the first time in more than 100 days, licensed premises across Cheshire will be reopening their doors to customers as lockdown restrictions ease further.
Nantwich Police met with the town's pub and restaurant licencees (pictured) at Nantwich Civic Hall yesterday July 1 to discuss the issues they are facing this weekend.
In a statement, they said: "Despite the short notice, representatives from almost every venue shared ideas and discussed how best to prepare for this weekend's opening. The over-riding message from all was that safety will be paramount.
"It is clear that licensed premises have plans in place to ensure social distancing and Covid compliance.
"We'd ask that anyone heading into town is patient, takes note of the additional signage and works with licensees to ensure a safe Nantwich for all."
Many outlets in the town are already fully booked up over the weekend, as they operate a table-only service to ensure social distancing and safety for all.
Superintendent Julie Westgate, from Cheshire Police, said: "I understand it's been a difficult time for everyone, particularly young people, who are keen to go out and socialise with friends.
"I don't want to spoil the fun and I want everyone to have a good time but please do so safely – it's essential that everyone continues to remain vigilant and acts responsibly.
"If you are visiting bars and pubs this weekend, drink sensibly, and pre-plan your travel and how you are going to get home.
"The threat of coronavirus has not gone away and while pubs and restaurants are reopening, it is really important to remember that things will not simply go back to normal.
"Social distancing guidelines remain in place, meaning that capacity in all premises will be limited and people will need to plan ahead."
There will be an increased police presence in town centres like Nantwich, she said.
"Officers will be patrolling key locations and we will be dealing with any incidents of crime and disorder, while our local authority partners will deal with any licensing issues.
"We will continue to use common sense and discretion to determine what is reasonable, with officers engaging, explaining, encouraging and, only as a last resort, enforcing.
"I would like to take this opportunity to remind people we cannot enforce social distancing and are relying on your good nature to follow the guidance.
"Keep in mind the purpose of the remaining regulations and the national effort and by following the guidance and working together we can all help to protect the NHS and save lives."
Cheshire Police Crime Commissioner David Keane says he hopes officers will not have to be deployed to address disorder.
He said: "The vast majority of Cheshire residents have followed the government's advice over the past few months and I would like to see residents being as considerate as they have been in the lockdown.
"The Chief Constable has assured me that his officers will be available to ensure people can enjoy their weekend safely.
"But I would also like to see local people taking personal responsibility for their actions as we all know that the coronavirus hasn't gone away.
"This includes following social distancing guidelines put in place to reduce the spread of coronavirus which is still in circulation in our communities.
"If these guidelines are not followed we could see a second wave of the virus develop which we put unnecessary pressure on our NHS.
"Please continue to respect all of our emergency services who have worked tirelessly to keep us safe during the pandemic."
For the latest public health advice on coronavirus, visit: https://www.gov.uk/coronavirus
(Image courtesy of Nantwich Police)