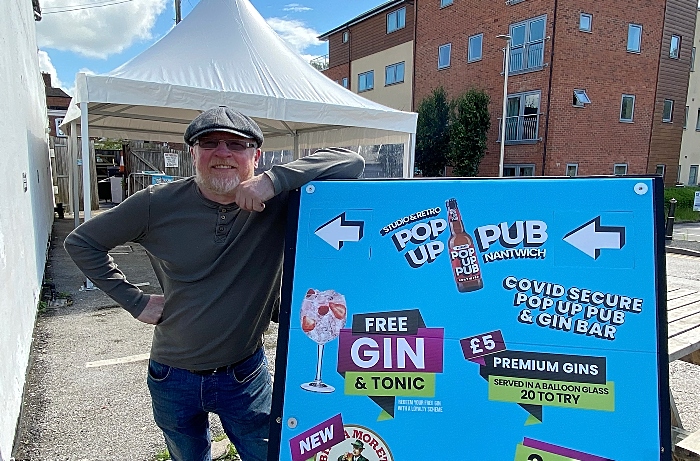 A nightclub boss in Nantwich has called on the Government to issue a "roadmap" for when such venues can reopen.
Nigel Woodhouse, who runs and employs 20 people at The Studio nightclub on Castle Street in Nantwich, feels his industry sector has been "forgotten".
Nightclubs are among a number of service industries which remain on the Government's coronavirus "forced closure" list.
Medical advisors say clubs are riskier as they involve closer contact on dance floors, and raised voices because of loud music.
Other industries which were on the list including nail bars and tattoo parlours have re-opened this week, but only for non face to face services.
Indoor gyms and swimming pools will be able to reopen from July 25.
But Mr Woodhouse, who opened an outdoor "pop up bar" outside The Studio on July 4,  feels sectors such as nightclubs and live music and performance venues need more help.
He said: "Nightclubs have been hit very hard through this pandemic and still no sight of reopening as yet.
"As an owner of one of our local nightclubs we feel that we need more clarity on timescales from our Government now.
"We feel forgotten as there has been no mention of our sector in reopening plans.
"Pubs and bars are now open which is good news for that segment of hospitality, but there are still a few businesses that are still on the forced closure list, us being one them.
"We feel that a roadmap to return similar to those given to pubs would be greatly received, even if our reopening is a long way off still, we just need to know.
"I have many friends in our industry that are quite happy to impose safety restrictions during operation.
"These could include reduced capacities to ensure there is is plenty of room for customers to move around, track and trace to enter or other suggestions from the government so we can open up safely and give the people of Nantwich and Crewe the chance to enjoy themselves again."
Pubs, bars and restaurants were allowed to reopen from July 4 under the new Government 1m+ social distancing guidance.
Supportive measures to kickstart this sector includes VAT cut from 20% to 5% for six months, which up to 460 Crewe and Nantwich businesses could stand to benefit.
And to encourage more people to eat out, the Government will pay for up to 50% of people's meals out at restaurants, pubs and cafes on Mondays, Tuesdays and Wednesdays throughout August.
The "Eat Out to Help Out" scheme will entitle everyone to a discount of up to 50% on their meal, up to a maximum of £10 per person.
Businesses can claim the money back from the Government, which will be paid in five working days.
Up to 210 businesses in Crewe and Nantwich could benefit from the move.
Local MP Kieran Mullan said: "We should not underestimate how difficult recent months have been for many businesses in Crewe & Nantwich.
"Now that the virus is coming under control, we must turn our attention to creating and protecting jobs.
"I hope everyone in Crewe & Nantwich will answer the call to Eat Out to Help Out.
"This fantastic new scheme, along with the cut in VAT, is the much-needed lifeline many businesses have been calling for."
(Image courtesy of Jonathan White)