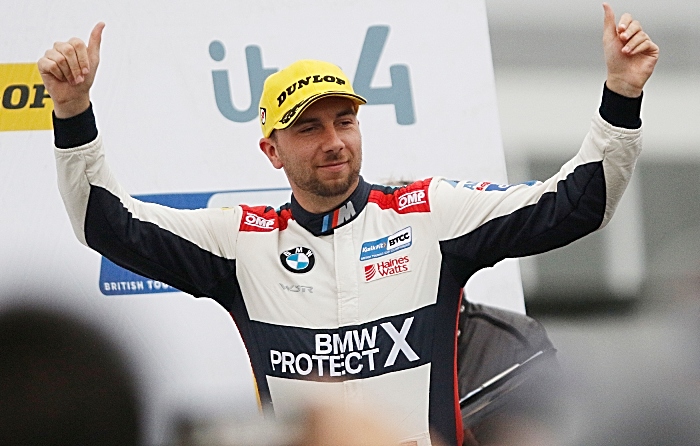 Tarporley racing driver Tom Oliphant is ready to hit the ground running in the delayed British Touring Car Championship's season opener.
Oliphant, again driving for Team BMW, will race at he 2020 Kwik Fit BTCC opening weekend at Donington Park on August 1-2.
It follows a three-month postponement of the season due to COVID-19.
But the green light has been given for motorsport to restart and Oliphant is ready to challenge for success in his second season with Team BMW and their potent BMW 330i M Sport machine.
The 29-year-old has been working hard from home to ensure he is at his physical and mental best once the action resumes.
A welcome return to track action came earlier this month with an official two-day championship test at Snetterton.
The revised season calendar sees nine race weekends between early August and mid-November.
Once again the series takes in the UK's best tracks, including Oliphant's home circuit of Oulton Park in Cheshire on August 22-23.
Oliphant said: "I couldn't be more excited to get back racing again!
"It's been a long wait due to COVID-19 and I know it's been a stressful time in lockdown for a lot of the BTCC community.
"So I can't wait to get out there alongside the rest of the grid and put on a show for all the fans again.
"With track time set to be limited before the season begins, the Snetterton test was really important for me to dust off the cobwebs, get behind the wheel again and work with the team on some crucial set-up and tyre work so we can hit the ground running at Donington Park.
"Donington is one of my favourite circuits in the country and the BMW was fantastic there last season.
"I want to be challenging for silverware from the opening race of the season.
"With a year under my belt with Team BMW, I'm ready to fight for the top prizes!"
Across the 2018 BTCC campaign, more than 380,000 fans attended 10 race meetings.
The championship's free-to-air television coverage on ITV reached a total UK audience of over 19 million.
The 2020 BTCC season nine events will be at Donington Park, Brands Hatch, Oulton Park and Knockhill in August, then to Thruxton, Silverstone, Croft and Snetterton before the November season finale at Brands Hatch.