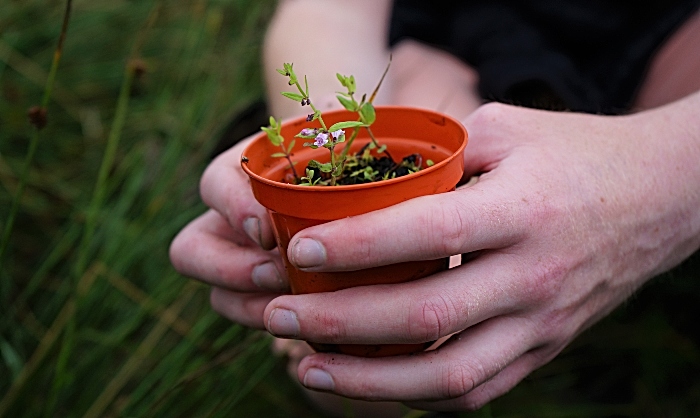 The Lesser Skullcap plant has been reintroduced to a Cheshire Wildlife Trust Nature Reserve after a 20 year absence from the county.
Historically, the plant was used in traditional medicine and had a multitude of uses including a nerve disorder sedative.
The plant (Scutellaria minor) is also the host plant of the skullcap leaf beetle, a relatively uncommon species throughout England.
Josh Styles, from the North West Rare Plant Initiative (NWRPI), who re-introduced 15 plants on site in a Facebook Live post said: "Plants are the fundamental basis of life on earth, they are the corner stone of almost all ecosystems on the planet – they're truly incredible."
Sites for Lesser Skullcap in Cheshire, including wet heaths and acidic grassy pastures, dwindled to zero not long ago with the abandonment of traditional grazing and the intensification of agriculture.
Josh continued: "I'm excited to reintroduce Lesser Skullcap to Cheshire Wildlife Trust's Bagmere Nature Reserve as the favourable habitat and grazing that occurs through parts of the site has made it a suitable place for the species to thrive."
Hannah Dalton, Living Landscape Officer at Cheshire Wildlife Trust, said: "It's really important we look after nature and protect our special places here in Cheshire.
"Nature is vital for everything and everyone and it's being lost at such a fast rate, now more than ever before we must restore it back to its former glory.
"That's why exciting re-introductions like the Lesser Skullcap are so important for nature's recovery."
This is the third plant species the NWRPI has reintroduced into a site managed by Cheshire Wildlife Trust.
By working in partnerships like this, the hope is that wider landscapes will recover enough to provide natural carbon solutions to help combat current nature and climate crisis.