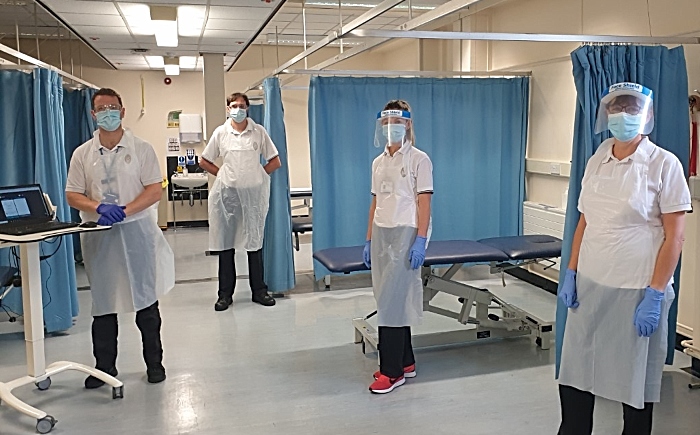 A physiotherapy team in Cheshire has helped more than 3,000 patients to continue with rehab during lockdown.
The Clinical Specialist Physiotherapy team at Central Cheshire Integrated Care Partnership (CCICP) has been using video calling software, telephone and online courses to continue seeing and treating patients.
Combining more than 6,000 telephone consultations, more than 500 virtual video consultations and online classes, the team has helped patients with different musculoskeletal (MSK) complaints, such as shoulder or back pain.
The team has used virtual consultations to allow physiotherapists to safely assess, diagnose and treat patients, demonstrate and practice exercises to build a tailored programme, and provide instant advice that will improve a condition.
The team has also used the online sessions to show patients or partners self-massage techniques and to run exercises classes such as pilates.
Alexandra Mayor, Physiotherapy Team Manager for CCICP, said: "During the pandemic, where access to primary health care settings has been limited, virtual consultations have allowed patients to continue to receive care for their musculoskeletal problems.
"The team has put a huge amount of effort into adapting the service,, which has allowed us to continue running and supporting patients even at the most difficult times during lockdown."
Kieran Gallagher, Winsford Care Community Service Manager, added: "It's been amazing to see how hard the team has worked in getting virtual consultations off the ground.
"Everyone in the MSK service has adapted to the current situation, and this has ensured our patients needs have been met during these extremely challenging times. Well done and many thanks to them all."
CCICP's Clinical Specialist Physiotherapy team covers South Cheshire and Vale Royal.
It is just one of the partnership's services that has adapted to continue to support patients during the coronavirus pandemic.