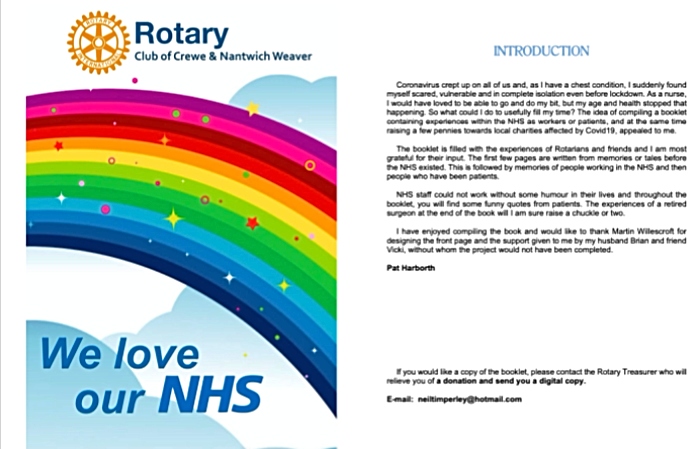 Members of Crewe and Nantwich Weaver Rotary have produced an e-booklet describing their experiences of working in or being helped by NHS during the pandemic.
The idea was started by Pat Harborth, a Friend of Rotary, and she gathered friends and family to contribute to the e-booklet.
Several club members contributed and the booklet was made available for a donation to support local community organisations impacted by COVID-19.
Pat Harborth was praised by the Club at its latest virtual meeting for her efforts in raising £515.
She was presented with a Certificate to recognise her contribution.
President of the Rotary Club, Richard Wharton said: "The Rotary Club has already supported local charities to the tune of £2,500 but we wanted to do more.
"I was so grateful that Pat came up with the idea was able to put this booklet together.
"We will be donating the money to show our support organisations that have worked so hard to support the people of Crewe and Nantwich."
Pat said: "Having worked in the Armed Forces as a nurse and then in the NHS I know what it is like to work under pressure.
"And whilst shielding I wanted to do something different to support all those who work so hard for our community.
"I am so grateful to those who took the time to write about their story and their experience."