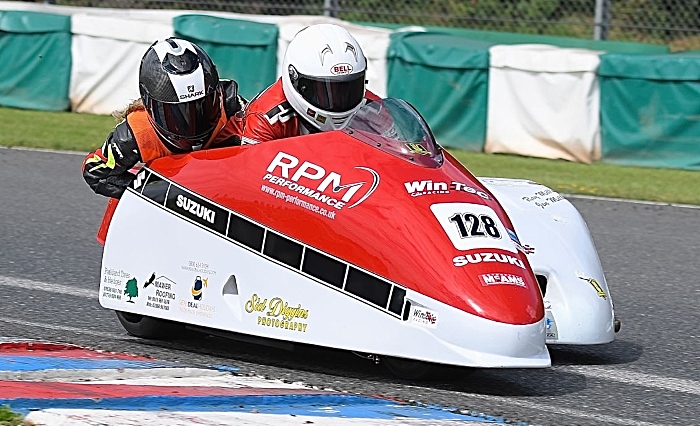 South Cheshire sidecar racer Amy Dodd and her driver partner Simon Horton notched three top 10 results in their opening EMRA club championship weekend.
Amy, from Crewe, and Simon were at Mallory Park in Leicestershire where they competed in four races in the delayed season opener.
The meeting attracted a big entry in the sidecar class with 36 outfits split into two groups.
With the British F2 Championship and the Isle of Man TT races being cancelled due to the pandemic, the riders were taking the opportunity to get some practice in at Mallory.
Simon and Amy qualified in ninth place in the mixed grid of outfits and as they set off at the start of the first race on Saturday they settled into fifth place.
Despite dropping back as far as eighth during the race they managed to make it back up to sixth at the end of the eight laps (second in their class).
Race two also went well for the pair who were eighth on the opening lap, but the race was red flagged and restarted to run over six laps.
At the restart they were in a scrap for seventh place with Anderson/Lupton and Maclaren/Hope.
On the final lap Anderson/Lupton went out with a problem leaving the way clear for Simon and Amy to coast home in eighth place and first in their class.
After suffering problems with the throttle in race three they had to pull out to retire after just one lap.
But once the problem was sorted they were back in action for the final race of the day where they took their best result of the weekend with a strong fifth place overall and second in their class.
Simon said: "We had a good weekend and produced some strong results.
"Amy coped very well in her first race meeting with me and although we were up against some very fast riders she never faltered.
"We appear to have gelled very well as a team and can now move on to Darley Moor for some more testing."
The team will head to Donington Park and the Bemsee club meeting in early September.

(pic credit Sid Diggins)