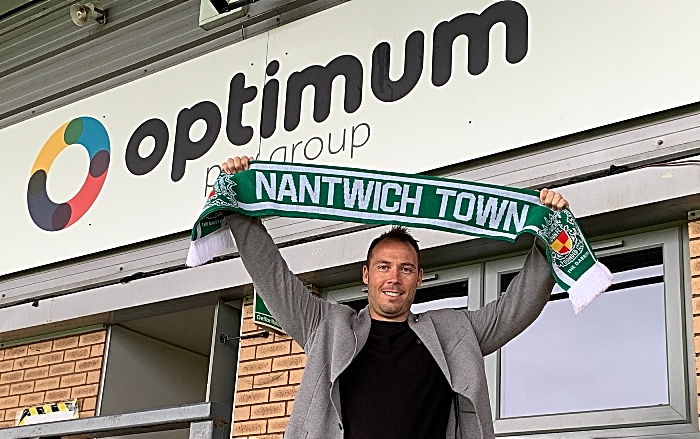 Nantwich Town have appointed a new director to its Board as the club hits £13,000 of funds raised to help it survive the COVID-19 pandemic.
Carl Boulton, managing director of Crewe-based Optimum Pay Group, has joined the club's Board as the company continues to support the Weaver Stadium outfit.
Mr Boulton's business will also continue to sponsor the club's "Optimum Pay" main stand.
It comes as a push to raise £20,000 to help it battle through the lockdown has already helped to raise more than £13,000 in just two weeks.
Dabbers Chairman Jon Gold said: "This is wonderful news on both parts.
"Following the cancellation of last season and the enforced closure of the club due to the Covid-19 pandemic, it's no secret, that like many other sports clubs and businesses we have struggled to keep things viable.
"But due to our hard working volunteers, the generosity of our supporters and the wider community and the continued support of our much-valued commercial partners, the future will be exciting.
"We are sincerely grateful to The Optimum Pay Group for their continued support and involvement in the club.
"We are also delighted to welcome Carl to the NTFC Board, as his vast experience in various sectors and passionate enthusiasm for the club, is going to be a valuable asset as we embark on the next stage of our exciting journey."
Mr Boulton said he was delighted to continue the partnership with Nantwich Town.
"I fell in love with the club when we first relocated our offices to the area and started attending games," he added.
"Its supporters, the atmosphere and friendliness that emanates from all around the club, is unique and the reason why we initially became involved as sponsors.
"It's also provided us as a company with great value and awareness as well, which is why we are proud to be continuing our partnership.
"I have met many wonderful people over the time that we have been involved with the club and the work that the dedicated volunteers do on its behalf is unbelievable.
"On a personal note, I am honoured to be joining the board and am looking forward to playing a part and helping the club to move forward, achieve its massive potential and building on the wonderful successes of recent years."