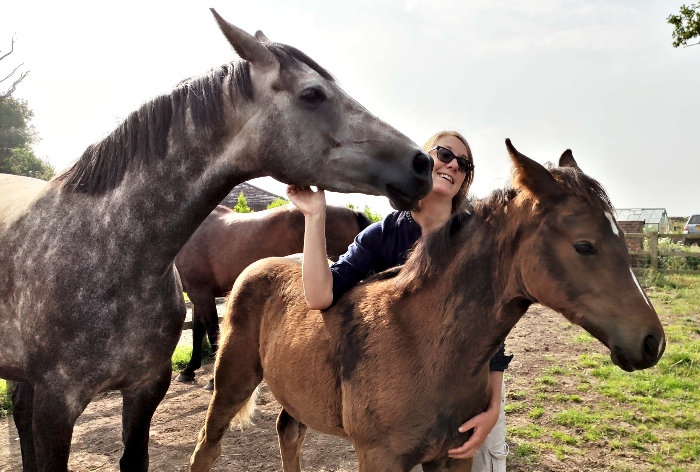 A Nantwich horse breeder has scooped a top honour at the British Breeding Futurity Evaluations event.
Rhiannan Lomas entered her foal Elara into the competition while helping her husband on their dairy farm and looking after two small children.
And Elara, foal of British-based stallion Je T'Aime Flamenco, achieved a highly desirable Gold accolade.
Je T'Aime Flamenco is international showjumper Billy Twomey's successful competition horse who is now enjoying his full-time breeding career at Stallion AI Services.
Elara convinced the judges with her correct conformation and harmonious frame, gaining her an overall mark of 8.09.
Her mother Eclipse's direct damline has produced several licensed stallions.
The Futurity evaluations aim to identify British bred, young potential sport horses and ponies that are destined for careers in dressage, eventing, showjumping or endurance.
They even find the Olympic Champions of the future.
Entries are categorised by discipline with age groups for foals, yearlings, two and three-year olds.
For the first time, due to the pandemic, The British Breeding/Baileys Horse Feeds Futurity Evaluations saw breeders submitting their entries in digital format in sets of detailed videos taken on hard and soft ground.
A team of international experts from the UK, Holland and Germany were on the judging panel.
Breeder Rhiannan said: "My plan is to continue to breed 1-2 foals a year from Eclipse and my other mare Deiya, who I bred myself.
"I would like to produce them into the sport of showjumping to at least 1.40m.
"I am proud to breed high quality sport horses who have superb temperaments.
"I do everything by myself including all the scanning and artificial insemination".
Gold awards qualify horses for pre-selection into the first ever Futurity Elite Online Auction, which will be held in September in cooperation with ClipMyHorse.TV.
The Futurity evaluations will continue until August 31.
For more information, visit www.british-breeding.com