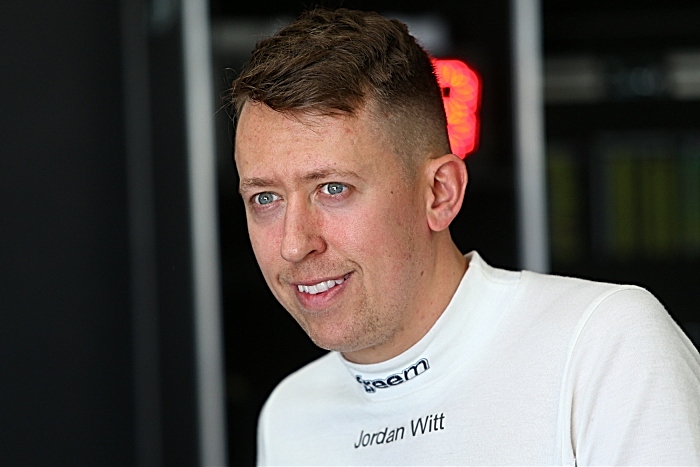 Nantwich racing driver Jordan Witt aims to continue his winning momentum when the British GT Championship arrives at Brands Hatch Grand Prix Circuit this weekend (August 29-30).
The Silver Cup class title contender enters the fifth round of the 2020 season on the back of a memorable maiden Silver Cup victory with team-mate Jack Mitchell at Donington Park's GP Circuit.
It was a dramatic and entertaining, wet-but-drying one-hour race, and Witt now head to Brands Hatch with confidence unsurprisingly high.
Witt had set his sights on battling for a first Silver Cup win and duly delivered at the wheel of the No.10 McLaren 720S GT3 in round four.
Not only that, he and Mitchell placed third overall – a maiden outright British GT podium – from the back of the grid.
Just seven points adrift of second place in the Silver Cup title and only 8.5 points shy of the Championship lead, the highest placed McLaren Customer Racing team pairing are focused on more podium silverware this Sunday.
In the outright British GT Championship battle, they are eighth in the standings and only seven points outside the top six.
"I really am looking forward to Brands," said Witt.
"We're still on a high, to be honest, after the mega results we achieved at Donington – it was such an awesome weekend.
"With the ballast in the car, and so many variables with the weather, to come away with two Silver Cup podiums, a win, and an overall GT3 podium was more than I expected.
"Everything with our deal to join 2 Seas Motorsport – a brand new team don't forget – came so late in the day, we didn't know how competitive we'd be but the guys have done an unbelievable job.
"The car is fantastic to drive, and I think Jack [Mitchell] and I are one of the quickest, if not the quickest, Silver Cup pairings out there.
"Brands is a different challenge again, but we're ready for it."
Witt has long been a force in endurance racing home and abroad and his welcome return to British GT this year – after winning his class at the Total 24 Hours of Spa last year in the then Blancpain Endurance Cup – has been a popular move.
Round five at Brands Hatch will mark the midway point of the rescheduled Intelligent Money British GT Championship season, with three race weekends completed and three more to go in 2020.
Opening practice at the Kent venue will get underway at 09.30 on Saturday, with the second session following at 12.20 and qualifying beginning at 16.00.
On Sunday, 30th August, the brief 15-minute warm-up will start at 10.00 ahead of the two-hour race at 13.00.
Live streaming of the race will be carried at SRO's GT World YouTube channel HERE as well as at the British GT Championship Facebook page HERE and Twitter feed HERE.