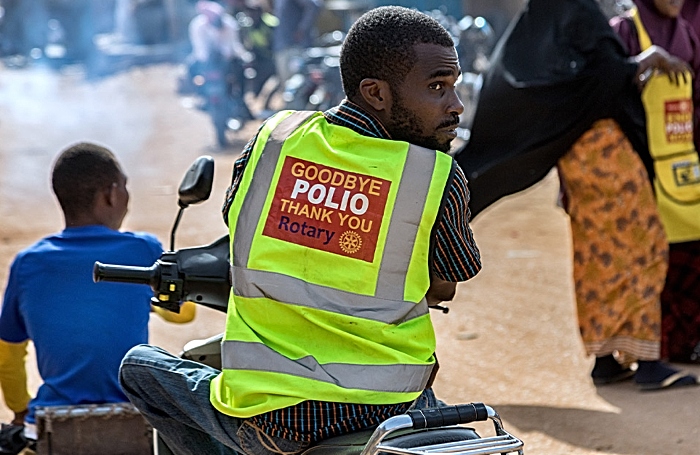 Rotary club members across Nantwich and Crewe are celebrating after Africa region was declared wild polio-free.
Local rotary clubs have played a role in the major global public health achievement, after years of fundraising and campaigning.
Polio, a debilitating disease mainly affecting children, can cause paralysis and even death.
But Rotary clubs and volunteers around the world have worked tirelessly since the organisation pledged to rid the world of polio more than 30 years ago.
There are five Rotary Clubs in Crewe and Nantwich which have all played a part and towards the "End Polio Now" campaign.
Each have raised thousands of pounds for research, made donations and raised awareness with ativities such as purple crocus planting and lighting buildings purple.
And they have lobbied MPs to support Early Day Motions in Parliament supporting polio immunisation campaigns.
Local clubs have vowed to continue with further activities ahead of World Polio Day on October 24.
Local Rotarian Diane Yates said: "This is a terrific landmark in the world's battle to eradicate polio.
"Although it has been many years since polio has been present in the UK and Ireland, we are proud to have contributed to the global efforts to eliminate the disease for good.
"We remain committed to making the final, challenging steps towards making a polio free world a reality but if we don't finish the job, it is estimated that, within 10 years, as many as 200,000 children annually all over the world could succumb to polio, including here in the UK.
"The virus can literally be a plane ride away so vaccination is so important."
The job to fully rid the world of polio continues as it is still present in parts of Pakistan and Afghanistan.
Globally, more than 2.5 billion children have been protected against the disease, which have reduced the number of cases by 99.9% from around 1,000 cases per day in 125 countries.