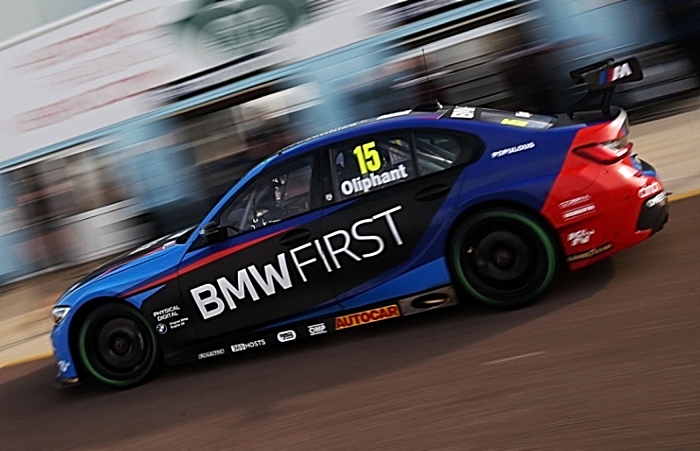 Tarporley racing driver Tom Oliphant heads to Silverstone this weekend after a fine showing at Thruxton which as left him in sixth place in the BTCC Championship.
Oliphant was rewarded with a trio of top eight finishes, banking him a solid haul of points.
The Team BMW ace got back behind the wheel to tackle the fastest circuit in the UK with the aim of building on his impressive run of results to-date.
And despite the high-speed Hampshire venue traditionally being better-suited to front-wheel-drive cars, the BMW 330i M Sport driver showed encouraging pace in practice sessions and headed into qualifying with a quiet confidence.
The 30-year-old extracted the maximum from his machine to set the 12th best time.
Moving up four more spots to eighth the Sports Alive-backed driver bagged a handy haul of points to aid his lofty Championship position.
Carrying less weight in race two, Oliphant was once again on the move as he kept his nose clean and progressed to sixth at the chequered flag.
Starting third on the grid virtue of the reverse grid draw, the former Ginetta GT4 Supercup champion picked up another sixth place finish to cap off a solid day at the office.
Following the fifth of nine events this season, Oliphant sits sixth in the BTCC Drivers' Championship heading into the next rounds at Silverstone this coming weekend (September 26/27).
He said: "Considering that we qualified outside the top ten on Saturday we can't be too disappointed with three top eight finishes and a solid haul of points, especially as the characteristics of the circuit didn't suit our car as much as other tracks we visit.
"After qualifying I had it in my head that we needed to play the long game on Sunday.
"Moving forward in races one and two was important as it put me into the hat for the reverse grid draw, and that ultimately was kind as it placed me in third.
"I had a good launch but in the second phase I was swallowed up by the front-wheel-drive cars. Had that not happened I think we would have had the pace to challenge for a podium.
"Overall we have made the best of the weekend and we'll focus on coming back stronger at Silverstone."
(Images included are from Jakob Ebrey Photography)