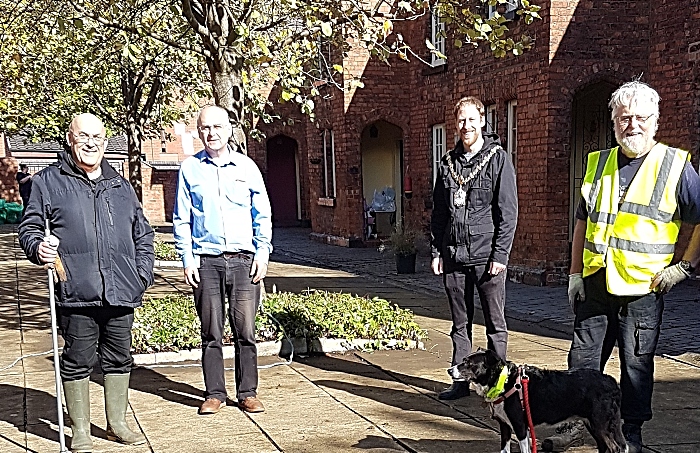 Members of Rotary Club of Crewe and Nantwich Weaver joined with Mayor of Crewe and members of the Railway Cottages Residents Association for a major clean-up operation.
They took part in Keep Britain Tidy and Rotary Clean Up in the area around the Grade II Listed residential buildings in Betley Street and Dorfold Street.
Under strict Covid guidelines, volunteers spent two hours clearing leaves, weeding borders and sweeping the streets so that the Railway Cottages could show off their heritage.
Chairman of the Residents Association, Kevin Edwards said: "The residents have only recently held an open meeting and wanted to tidy up the streets, so we were delighted when the Rotarians offered to help us and even more so when the Mayor indicated that he wished to be involved.
"Our grateful thanks to them all and to the Crewe Rangers who provided us with materials and for removing the waste."
President of the Rotary Club Simon Yates said: "The Railway Cottages are one of the few buildings in Crewe which showcase the heritage of Crewe and we must never lose it.
"It was a great pleasure to for Rotarians to help our local community in this unique way and to live up to our motto of Service above Self."
Meanwhile, the club has been recognised for its work in the community and overseas by receiving a Rotary Citation from the President of the worldwide Rotary International organisation.
The Rotary Citation recognises rotary clubs that support Rotary International`s strategic priorities by completing activities in their local community and supporting projects overseas.
The Rotary Citation also included a Platinum Presidential Distinction being the highest level of recognition that can be received.
Rotarian Diane Yates said: "This has been a fantastic achievement by the Rotary Club to be recognised at an international level for the support that Rotarians have given to so many people during the last year.
"The pandemic has led us to change so many things, but Rotarians in Crewe and Nantwich have shown that they really do try to live up to our motto of Service above Self."