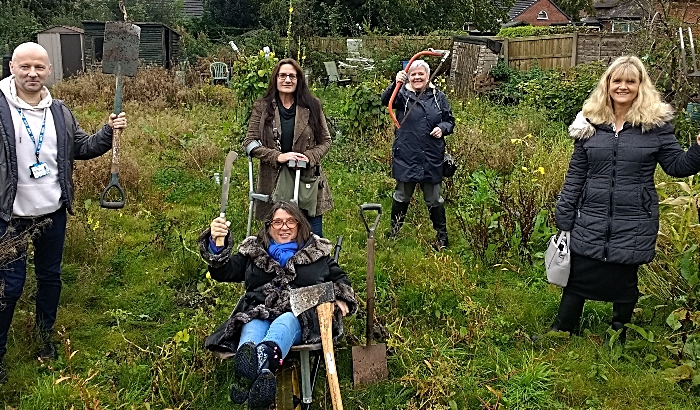 A community garden project in Nantwich to help improve health and well-being, has been given a cash boost from Cheshire East Council's Covid Recovery Fund.
The Growing Health Community Garden Nantwich is coming to life on two empty allotment plots behind Brookfield Park in Nantwich.
Plots have been granted rent free by Nantwich Town Council which has formally backed the plans, as reported by Nantwich News.
The Therapy Garden will be purpose-built to provide access to gardening and nature for all.
It will be wheelchair accessible with raised cultivation beds and wildlife areas, shelters, sociable seating areas, a seedling polytunnel and plans for a solar powered tool shed and even an accessible composting loo.
The project is the brainchild of allotment holders in Nantwich.
And it has attracted support from the NHS, Nantwich Town and Cheshire East Councils, the Cheshire Wildlife Trust and The RSPCA Wildlife Centre in Stapeley.
The first digger is due on site to get things moving in November.
Project designer and Brookfield Allotment Holder Mel Rees said the Covid crisis has demonstrated just how important gardening is.
"Gardens have been a lifeline for so many people through the lockdown.
"The allotments provide fresh air, tranquillity, exercise, fresh fruit and veg and community when it's needed the most.
"I have personal experience of the amazing and transformative therapeutic benefits of gardening."
Michael Willcocks, of Audlem Medical Practice, said there was growing recognition of how important gardening is.
"Health professionals have long understood the link between gardening and good mental and physical health.
"Prescribing gardening sessions in the company of a gentle and caring community really is the recipe to recovery.
"We already have a long list of people looking forward to taking this natural route to good health."
Cheshire East Council Community Officer Deb Lindop said the project was a brilliant way to help rebuild back stronger, greener and healthier post Covid.
"So many people have lost their jobs and their sense of purpose.
"The Growing Health Garden will provide a place where people can learn new skills, rebuild their confidence, and make the connections to future opportunities to personal and professional growth."
Cheshire Wildlife Trust's Jan Shone said the project was all about growing a healthier world.
"Gardening is a great way for people to learn about how nature works, and the importance of wildlife and the environment.
"As Sir David Attenborough can attest – we need to learn the value of life on planet earth to appreciate our own lives.
"The garden is a great place to start that journey."
Nantwich Town Councillor Stephanie Wedgwood, who is also a nurse, is backing the project too.
"It's really inspiring to see everyone working together to help and support those who have struggled through Covid.
"Gardening is all about nurturing.
"The Growing Health project creates the links for planting the seeds for a stronger, more thoughtful and caring community."
The £5,000 grant will pay for much of the first stage of the project, including clearing the site, building the raised beds and pathways and preparing the ground for a community polytunnel, shelter, pond and seating areas.
But the not-for-profit community project still needs more material and financial support and we would be delighted to hear from anyone, particularly local businesses, who can help.
For further details of how you can help, email [email protected] or ring 07729 979641.