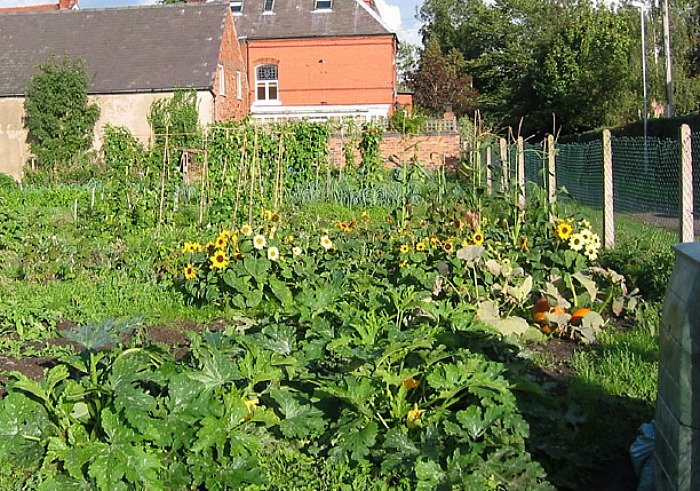 Allotment holders and NHS specialists have unveiled plans to develop and open a Nantwich Community Health and Therapy Garden.
The garden would be located at Brookfield Allotments in the town, and be used by health experts to prescribe to those with mental health symptoms.
Allotment holders formed the "Growing Health Nantwich" group and came up with the idea which has been backed by NHS, Cheshire Wildlife Trust and now Nantwich Town Council.
Two plots at the Brookfield site would be re-designed for people to visit for "therapeutic benefits of horticulture, gentle outside exercise and fresh air".
NHS patients would be referred to the garden for treatment.
It would also offer a space for volunteering and community organisations to use such as schools and youth groups, and groups working with the elderly and disabled.
In a report before Nantwich Town Council, it says; "The project will act as a gateway for participants to develop friendships, skills and enthusiasms.
"It will grow opportunities for a healthier future – it will provide a seedbed for personal development and community engagement.
"The referral of NHS patients by medical practitioners gives structure and direction to the project – ensuring that it delivers real benefits to individuals and communities.
"Volunteers from allotments and partner organisations will be able to develop and maintain the garden environment."
Nantwich Town Council backed the idea unanimously at its meeting tonight (September 10).
Town Clerk Samantha Roberts said: "These sorts of facilities are very popular at the moment, and it's to do with 'social prescribing' as an alternative to medicinal prescription.
"Interested parties are very keen to get this up and running. The two plots are owned by Nantwich Town Council so the request is that the council donates these to the project."
Cllr Arthur Moran said: "This is an excellent idea which we should support, and we know there could be some funding from Cheshire East Council as well."
Other organisations keen to be involved include Nantwich in Bloom and RSPCA Wildlife Centre in Stapeley.
Councillors agreed to apply for funding from the Cheshire East Community Fund for up to £5,000 initially, and a Steering Group to be formed to develop a clear project plan.
This would be overseen by a "professional project manager", says the report.
It is hoped the physical garden will take shape over winter 2020-21.
(Brookfield Allotments – pic by Espresso Addict, creative commons)