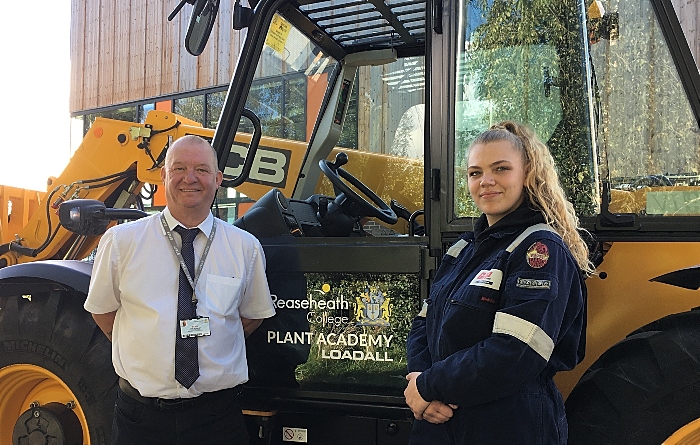 A talented engineer trained by Reaseheath College in Nantwich has carried off two top awards in a competition aimed at finding the nation's best construction plant apprentices.
Alisha Giles, 20, was national runner-up in the Level 2 Plant Mechanic of the Year category in the Construction Plant-hire Association's "Stars of the Future Awards".
She had earlier won the regional title and went head to head against seven winners from other colleges in the national finals.
The competition is an annual highlight for the construction plant industry and showcases the talent of future leaders within the sector.
There were 70 strong entries throughout the categories.
Alisha is an apprentice construction plant fitter with GAP Hire Solutions, and attends Reaseheath College Engineering department for off-the-job training.
She has progressed onto her Level 3 apprenticeship, and is also studying for a Master's degree in Mechanical Engineering with the Open University.
Once qualified she hopes to become a workshop foreman and eventually a chief engineer.
Alisha said: "My family has been involved in construction plant for many generations and my dad encouraged me from a young age to get involved with engines, machinery and vehicles.
"He inspired me to become a plant fitter and to prove to myself and others that there is nothing stopping women from succeeding in this male dominated industry.
"Everything about an engine captivates me, from the noise to researching each component – and the joy of finding and solving issues.
"I apply everything I've learned at college back at my workplace.
"All my lecturers have worked in the industry and put themselves out to support me."
Reaseheath's Construction Plant Programme Leader Jon Rowley said: "Alisha is a very deserving winner who thoroughly deserves the recognition of these prestigious awards.
"She demonstrates fantastic capability and leadership qualities and is definitely future management material.
"She consistently earns very positive feedback from both Reaseheath and from her employer."
Christopher Turner, GAP's General Manager, Brighton depot, added: "We are delighted that Alisha has received these top awards.
"She is a very motivated young lady with a great work ethic and thirst for knowledge.
"She is a credit to our company and we hope that her success will encourage other female engineers into the profession."
(Pic: Alisha Giles is joined by Jon Rowley at Reaseheath's Centre for Advanced Engineering and Agri-Technology)