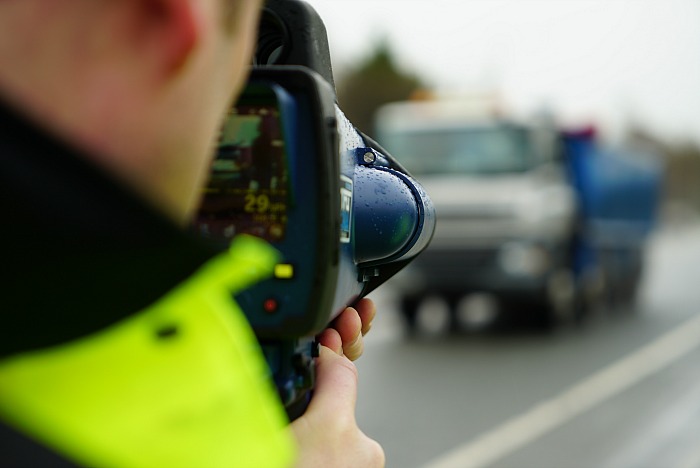 More than 70 offences were recorded during a police operation targeting lorry drivers on Cheshire's busy roads.
Dozens of "Traffic Offence Reports" were issued to drivers using motorways and main A roads across the county.
In total, 74 Traffic Offence Reports were issued during the operation.
Of those, 43 went to motorists who were not wearing seatbelts, 25 to drivers not in proper control of vehicles and 13 to those using a mobile phone while driving.
The week-long operation saw officers use a Heavy Goods Vehicle to patrol key routes allowing them to identify any offences carried out by lorry drivers around the Fatal 5 – careless driving, speeding, driving while using a mobile phone, drink/drug driving, not wearing a seatbelt.
Anton Sullivan, Inspector for the Constabulary's Roads and Crime Unit, said: "Sadly, there are some drivers who think it's acceptable to break the law and believe that they can get away with driving without wearing their seatbelts or whist using their mobile phone or otherwise distracted from driving.
"This vehicle is a valuable tool as it allows officers to have an elevated view enabling them to see exactly what is going on inside the cab of a lorry and to identify any offences which wouldn't normally be seen from a patrol car.
"I hope the operation acts as a deterrent to lorry drivers, promotes safer roads and reiterates the fact that nobody is above the law, literally.
"The operation may have concluded but officers will be continuing to use such vehicles to patrol the road network across the county."
Police and Crime Commissioner for Cheshire, David Keane, said: "Making our roads safer is a critical issue for all communities across Cheshire and one of my top priorities.
"Most people will have been affected at some time by injury or death caused by road traffic collisions.
"Enforcement on our roads is a vital tool in making sure that our loved ones return home to us safe and well.
"There have been too many tragic deaths and serious injuries on Cheshire's roads and motorways and I welcome any initiative that will help save lives and keep us safe."