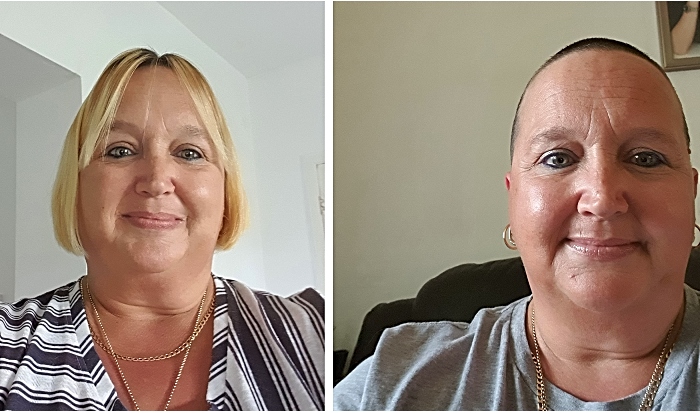 A Nantwich woman has taken part in a sponsored head shave in support of Macmillan Cancer Care, writes Hannah Youds.
Haze Birchall, 43, a member of the Nantwich and Border Counties Yacht Club, raised £1,152.50 for the charity.
And it's not the first time Haze has put her head on the block for charity – with past stunts including a bungee jump and a parachute leap!
"Over the years, I have done a few wacky things," said Haze, who raised £600 for a special needs school when she leapt out of a plane.
"But letting my husband Dave loose with the shears on my hair, while our daughter Daisy filmed it to raise money for MacMillan Cancer Support, has been the scariest and most traumatic event to date!"
Haze decided to brave the shave for her friend Denise, a fellow member at the Nantwich canal boat club, who was diagnosed with cancer a few years ago.
"Denise tells me that Macmillan nurses stepped in and supported her so much when she had to stop work because of her illness, yet she still had to provide care for her son who has learning difficulties," she added.
Since then, Denise has worked tirelessly for Macmillan Cancer Support at the boat club's annual fund-raising event, which was restarted after being an annual event for many years previously.
The fund-raising event is held at the end of September each year, raising money for the cancer charity.
The event is normally a social one, with activities such as raffles and cake decorating competitions, but because of the coronavirus pandemic, it could not be held this year.
However, that did not stop Haze taking on the Brave Shaver instead.
Discussing what she's planning next, Haze added: "It all depends on what next year holds for us all!
"If restrictions are still in place it will probably have to be something equally bizarre. Oh no!
"Life is full of uncertainties, but it is reassuring to know that with people's continued generosity, charities can continue to support those in need."
You can still donate towards Haze's hair-raising fundraiser here