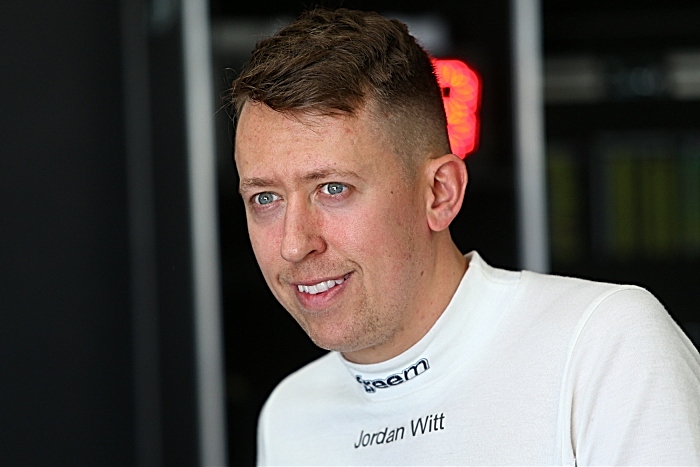 British GT Championship race winner Jordan Witt heads to Silverstone this weekend for the grand finale of the 2020 season.
And the Nantwich driver is determined to give his all in his bid for the coveted Silver Cup title.
McLaren 720S GT3 racer Witt will arrive at the home of UK motorsport with confidence high after he and 2 Seas Motorsport team-mate Jack Mitchell took a memorable maiden outright British GT race victory last time out at Snetterton.
The result in round seven was also a historic one for the Anglo-Bahraini 2 Seas Motorsport squad – the team's maiden win in its debut season of race action.
Witt and Mitchell had to settle for fifth in the Silver Cup and eighth overall in the second contest.
But the points scored were vital in keeping the duo's class championship bid alive.
Round nine, this Sunday afternoon, is to be the longest race of the season at three hours and it would be foolish to write-off Witt and Mitchell's chances.
"I can't wait for the weekend, we've had an awesome season so far and to still have a chance of winning the Silver Cup going in to Silverstone is mega," said Witt.
"It won't be easy to overturn the points deficit, but while there's a chance we'll be giving absolutely everything to make it a reality.
"So much can happen in a three-hour race, the consistency and reliability needs to be there and we've got to be ready to seize any opportunities – especially making the most of things like Safety Cars and the pit-stops.
"Snetterton was incredible, to take my first ever British GT win and the first for 2 Seas Motorsport was very special.
"I want to be back on that podium on Sunday.
"There are so many people to thank for the mega season we've had," said Witt.
"I have to say a massive thank you to my sponsors Vibe Audio and Yelir World for getting me on the grid and also to the 2 Seas guys.
"The team has been absolutely first class all season.
"To come into such a strong championship as a brand new entrant and be so competitive, it's been awesome."
Free practice at Silverstone will get underway at 9am on Saturday November 7, with a second session following at 11.25am ahead of qualifying at 3pm.
On Sunday, warm-up will begin at 9.50am with the three-hour season finale beginning at 12.50pm.
Live coverage will be carried online HERE