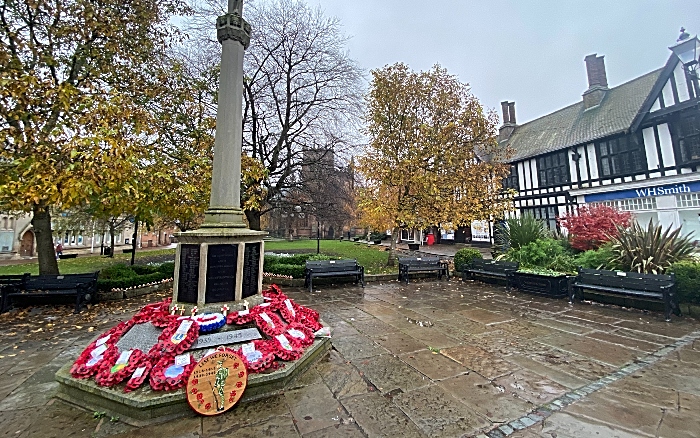 Remembrance Sunday Services were held "virtually" yesterday to commemorate the contribution of British and Commonwealth military and civilian servicemen and women in the two World Wars and later conflicts, writes Jonathan White.
This year marks the 75th anniversary of VE Day and VJ Day, the 80th anniversary of the Battle of Britain and 70 years since the start of the Korean War.
Current Covid-19 restrictions and social distancing guidelines meant services had to be held as private events, although several were videoed and made available to view via social media.
Nantwich
Rev Dr Mark Hart led a Service of Remembrance at St Mary's Church.
The Chair of the Royal British Legion John Dwyer delivered the Exhortation into a 2 minute silence and Mayor of Nantwich, Councillor Pam Kirkham read the lesson with the service live-streamed on YouTube: https://www.youtube.com/watch?v=4f9ZimMvQj8
Nantwich Town Council laid wreaths at the war memorial on Nantwich town square ahead of the service.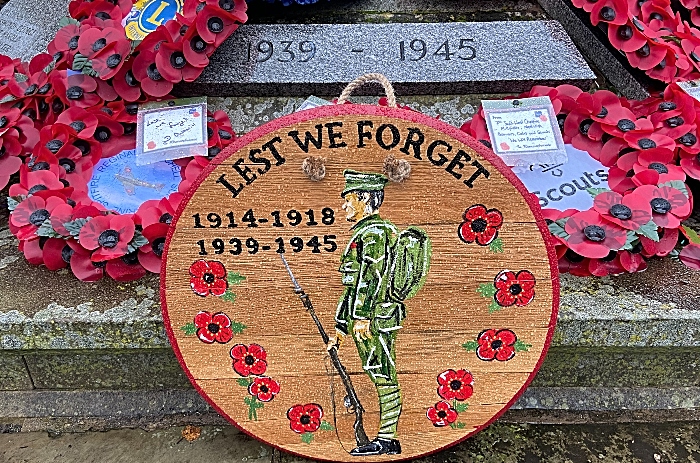 Members of the public could also lay their own wreaths.
Businesses in the town also decorated their premises including TPL Salon (Beam Street) and The Talbot (Oat Market).
Wistaston
Rev Mike Turnbull, St Mary's Church, Wistaston led an Act of Remembrance for Wistaston Memorial Hall on Church Lane via Facebook: https://www.facebook.com/wistastonmemorialhall and YouTube: bit.ly/youtubewistastonmemorialhall
Wistaston Memorial Hall was built over 70 years ago in memory of the sixteen men from Wistaston who lost their lives in the Second World War.
A Remembrance Day poppy cascade and silhouetted soldiers were on display in front of Wistaston Memorial Hall.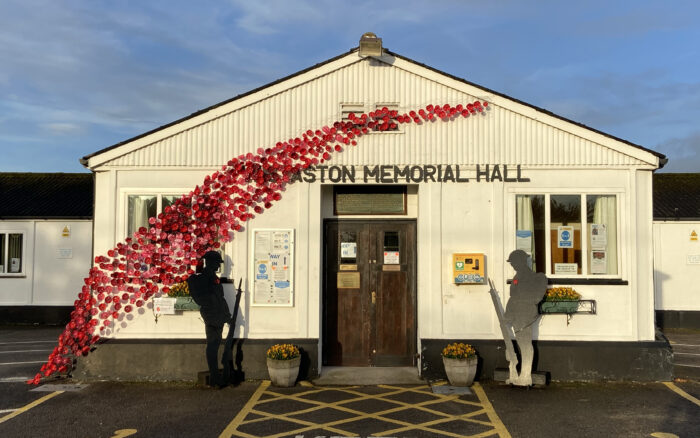 Rev Turnbull said: "Many thanks to all who contributed to this online Act of Remembrance.
"It means that we were able to continue the years of remembrance that have taken place in the Memorial Hall, albeit in a very different way."
Diane Edge-Robinson, Vice Chair of Wistaston Memorial Hall committee, said: "We hope our online Remembrance Service went some way to compensate for not being able to have our usual gathering in the Hall. We must never forget the 16 Wistonians who gave their lives or our freedom."
Rob Richardson, Drum Sergeant at Cheshire Drums and Bugles, played his side drum on his Lear Drive driveway in Wistaston.
He performed music including 'The Last Post' and 'Reveille', leading up to the two-minute silence at 11am: https://youtu.be/XmHof0z4z3A
Rob said: "For the past 36 years I've been on parade every year – the last two in Crewe and the previous 10 under the Menin Gate in Ypres, Belgium. Playing in front of 10,000 people and 78,000 ghosts is a hugely moving experience and one that changes your views and outlook.
"This year Remembrance for all of us is very, very different.
"We can all show our respects for the fallen and support for the living on our front doorsteps.
"Now more than ever do we need a sense of community, a sense of togetherness and to be thankful for the very freedom their sacrifice brought us."
Crewe
In Crewe there was a small private Royal British Legion wreath laying at the war memorial on Memorial Square.
Members of the public could also lay their own wreaths.
Belong Crewe created a community artwork, featuring more than 1,000 hand prints sent in from across the Crewe community and made into giant poppies, installed at Bru Cafe & Coffee (https://www.facebook.com/brucafeuk/) on Lyceum Square
Shavington
A socially distanced Service of Remembrance took place at the war memorial in Shavington with the service live streamed, https://shavingtononline.co.uk/
Willaston
An Act of Remembrance took place at the war memorial on the corner of Colleys Lane and Crewe Road with a small number of invited guests and live-streamed via Facebook: https://www.facebook.com/willastonparishcouncil
Cheshire East Council
Cheshire East Council setup a virtual service where viewers were able to see a wreath being laid by Cheshire East Mayor Barry Burkhill and hear a reading from the mayor's chaplain Rev Ralph Kemp, and a recital of the Act of Remembrance, https://youtu.be/3283oK7B4-g
Cheshire East Highways painted remembrance poppies on roads around Cheshire East to honour those who served and the sacrifice of our Armed Forces, veterans & their families.
Donate via mobile phone: to donate £2 text POPPY2 to 70545, to donate £5 text POPPY5 to 70545, to donate £10 text POPPY10 to 70545.
(Images courtesy of Jonathan White)