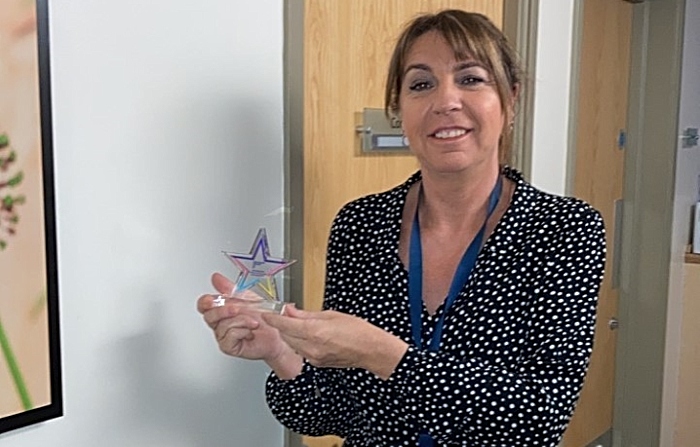 A specialist nurse at Leighton Hospital has been presented with an award by charity Pancreatic Cancer UK.
Vicky Woodall has been honoured for being an "Outstanding Healthcare Professional" at a virtual prize giving ceremony coinciding with Pancreatic Cancer Awareness Month.
Vicky has contributed to improving the lives of patients and also to the working lives of all the staff she encounters.
Over the years, Vicky has raised awareness of pancreatic cancer and has arranged for Leighton Hospital to "light up purple" this November for Pancreatic Cancer Awareness Month.
She is one of just eight award winners from across the UK.
Vicky said: "I am very humbled to have been both nominated and to have won this award.
"It goes without saying that this award should be shared amongst the specialist team that I have working alongside me here at Leighton and at our Specialist Centre at Stoke.
"It is a team effort that enables us to help our local patients as much as we can when they have been affected by a diagnosis of Pancreatic cancer.
"We are lucky at Leighton to have met many inspirational patients and families affected by Pancreatic cancer who have fully supported our endeavours, the biggest thanks is awarded to those and their families."
The Cancer Unit at Leighton Hospital will be lit up Purple during November to raise awareness of Pancreatic Cancer and as respect to families affected by Pancreatic Cancer.
Around 400 people are diagnosed with pancreatic cancer every year in the Cheshire and Merseyside area.
Less than 7% with the disease will live for five years after diagnosis, making it the deadliest common cancer.
Diana Jupp, Chief Executive of Pancreatic Cancer UK, presented Vicky's award at a virtual ceremony.
Diana said: "Vicky's work and all that she does as a specialist nurse makes all the difference in patients and their family's lives. We are extremely proud to present her with this award.
"Our star awards are our way of showing our deep admiration and appreciation to those who have supported the charity so passionately, over the year.
"This year, it was more important than ever to bring people together virtually, to celebrate the Pancreatic Cancer UK community."
To contact the charity, call 080 801 0707 weekdays 10am-4pm or email [email protected]