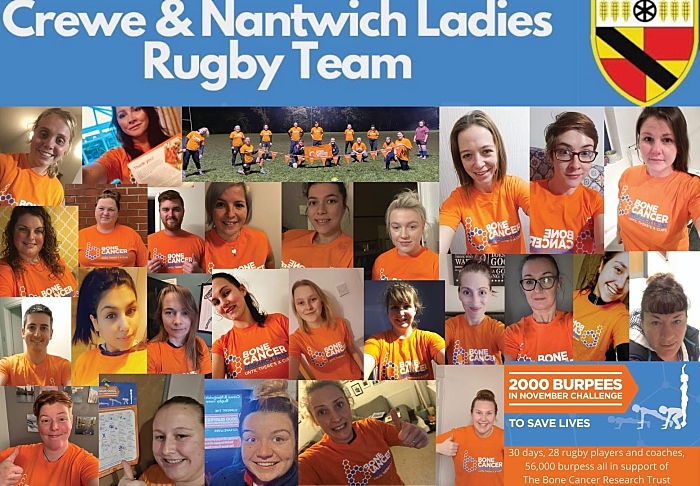 Crewe & Nantwich men and ladies teams have been keeping busy – despite not being able to play any games this season!
The men showed their power with a 3,000 press- up challenge, and the ladies displayed amazing fitness with a 2,000-burpees findraiser.
Crewe and Nantwich Men's team took part in their event in aid of Teenage Cancer Trust.
More than 15 players took part by doing 100 press ups each day for a month.
Spokesman Reuben Mitchell said: "We decided to do this challenge to try and keep fit during lockdown, whilst also raising money for an amazing cause.
"We have kept in touch with each other to see how each player is doing, whilst also filming ourselves to keep each other motivated towards the end goal.
"We raised £2,000 overall for the cause whilst keeping our fitness ready for the upcoming games in the new year."
And the Ladies team players took part in a "burpees" challenge throughout November in aid of Bone Cancer Research UK.
Every day, around 30 players and coaches completed more than 60 burpees every day.
And in total, the players completed a staggering 60,000 burpees which helped to raise almost £4,000.
Laura Walton-Williams, one of the team managers for Crewe & Nantwich Ladies, said: "In addition to it being a great team building activity to keep us all fit, one of my close friends has bone cancer.
"I thought it would be great to raise awareness and funds for this lesser known charity, whose aim it is to help other people like her fight bone cancer."