Children and staff across Nantwich Educational Partnership (NEP) sent some festive cheer to care home residents by sending out "Hearts to Homes".
Pupils posted out Christmas cards and good wishes to help support people living under tight Covid restrictions this Christmas.
NEP chair Boo Edleston, headteacher at Pear Tree Primary in Stapeley, said: "This year we have faced huge challenges in our schools but we know that we are not alone.
"We have been very moved by the difficulties the residents of our care homes have faced.
"Knowing that many of the schools already had links with their local homes turned into a larger plan.
"Across 14 schools, both primary and secondary, children made Christmas cards and after quarantining these they were then shared out across the area.
"Each school then took a selection of cards to one of the care homes in their area that contained messages of love and support and showcased some beautiful artistic abilities.
"We want our older community members and the staff who have tirelessly supported their residents since March, to know that the young people of the town and the staff of the schools have not forgotten them.
"We appreciate how hard it has been and the emotional impact it has had on the homes and the families of the residents."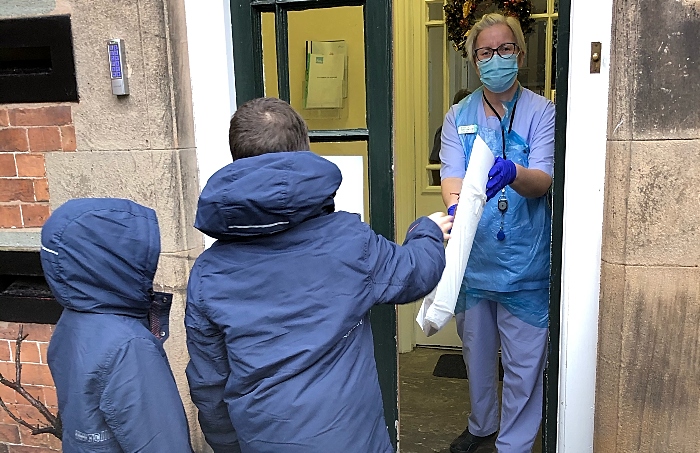 Nantwich Educational Partnership represents all schools from as far out as Wrenbury and Audlem to Bickerton and Bunbury.
Headteacher Caroline Middleton, from Bridgemere who visited Corbrook Park in Audlem, added: "We waved to the residents through the window.
"They loved it and I know the cards will be much appreciated as they were going to take them to their cheese and wine event that afternoon to be shared with residents."
Teacher Leanie O'Connor, from Pear Tree Primary, added: "We have worked closely with Clarendon Court in the past and it was lovely to take the children and deliver our cards, a good deed to remind us all to remember others at this time of year."